Our Favorite Backpacking Sleeping Bags 2020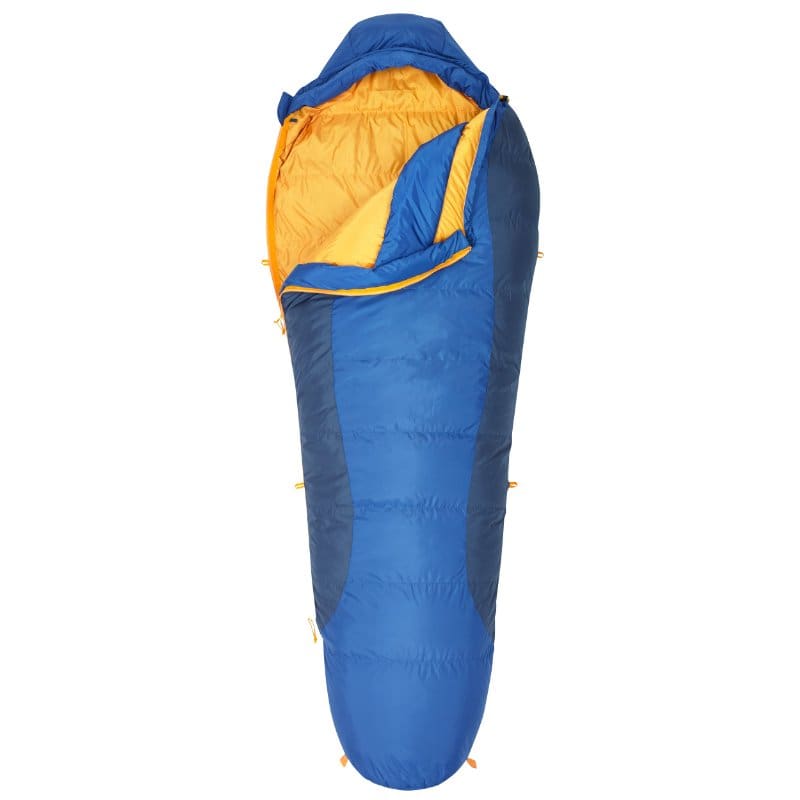 Over the last few years, I spent a ridiculous amount of time outdoors. My goal wasn't only to challenge myself mentally and physically on these excursions, but to do what I could to become a real expert as far as camping products are concerned. That being said, one of the single most important things that you can have in your outdoor living arsenal is a sleeping bag.
With some support from the (at the time) burgeoning Ready Tribe team, I chose what we deemed to be the best backpacking sleeping bag for each of my trips. Below, you'll find my breakdown of each of the sleeping bags I used and my thoughts on them.
Here's hoping this information makes your choice, at least, a little easier out of a market that is honestly, a little oversaturated with subpar "deals".
Backpacking Sleeping Bag Reviews
Since I worked with so many excellent people in choosing these sleeping bags, everything below is a stellar choice. No matter which you choose, you're going to have a great night's sleep, and the decision should then be made depending on your particular needs.
Cosmic Down 20 Degree Sleeping Bag
At first glance, this Cosmic Down 20-Degree Sleeping Bag seems small in its packaging and, honestly, I thought it came off as a little flimsy. My first assumptions couldn't have been more wrong. At 5'8" and 170 pounds, it fit well into the bag and felt completely secure when fully zipped.
With a rating that goes as low as 20 degrees, you're going to find yourself comfortably warm in practically any weather except in the most extreme of situations. Likewise, its Thermal-comfort hood and foot box make it supremely comfy.
I can't recommend this Kelty sleeping bag enough, and would gladly go out on a limb and say it's likely the best sleeping bag I've ever used or will ever use. After all of my adventures, this is now my go-to bag and can't imagine replacing it.
>>> Click Here To See Specifications, Customer Reviews & Ratings <<<
Features Include
Thermal-comfort hood
Natural fit footbox
Antisnag zipper draft tube
Ribbon and FatMan drawcords
Compact Stuff Sack
TETON Sports Celsius XXL -18C/0F Sleeping Bag
As far as 0-degree (F) sleeping bags are concerned, you'll usually have to stick with a snug-fit mummy-style sleeping bag. That being said, this Teton Sports Celsius XXL breaks that mold and offers a loose-fit sleeping option for those who prefer a more traditional bag.
Still, this bag is incredible in both warmth and comfort, and that's thanks to a dual layer construction that works to keep the filling from getting too compressed. That, in turn, means more air to trap warmth around yourself, making the whole sleeping experience here absolutely phenomenal.
Like I said, if you prefer a looser sleeping bag and need something rated for 0-degrees (F), you can't go wrong with this bag. Best of all, it's only about $70, making it one of the most affordable top-tier bags available today.
>>> Click Here To See Specifications, Customer Reviews & Ratings <<<
Features Include
Brushed poly-flannel lining
Super durable taffeta shell
Two-layer construction improves comfort and warmth
Attachable via zippers to matching Celsius XXL -18C/0F-degree sleeping bags
Coleman North Rim 0 Degree Sleeping Bag
This backpacking sleeping bag is a bit of an anomaly, but that ends up being a good thing. Usually, people assume polyester is completely uncomfortable, but the way this sleeping bag is designed, which is 100 percent polyester, makes it comfortable. The bag keeps in heat well, too, making it ideal for cold-weather climates.
However, that also kind of ends up being this bag's (only) downside - it is likely far too warm to use in locales that don't get particularly cold at night to sleep comfortably. For me, this bag got uncomfortably hot around the high 50s Fahrenheit.
Compared to other mummy-type sleeping bags, the Coleman North Rim 0 Degree Sleeping Bag didn't feel as tight, making it a good pick for larger people.
>>> Click Here To See Specifications, Customer Reviews & Ratings <<<
Features Include
100% Polyester
Coletherm insulation
keeps you warm and comfortable in frigid weather
Stuff sack is tiny at 20"x10"
Coleman Big Basin Extreme Weather 0-20 Degree Sleeping Bag
When it comes to sleeping warm in terrible weather, the Coleman Big Basin Extreme Weather 0-20 Degree Sleeping Bag is excellent at what it's designed to do. In dry but cold climates, I was actually able to sleep comfortably outside of the tent altogether since this bag kept the warmth in so well. Likewise, since it was built to accommodate people up to 6'6", I had more than enough room to spare.
However, the fact that taller people can sleep so well in this bag also brought along its only real downside; the sleeping bag is pretty large even when compressed into its sack. Sadly, this makes it almost nonviable to take along as a backpacking sleeping bag.
All in all, it's a great sleeping bag, but I would recommend it only if you are going camping and have room to spare when packing rather than trying to stuff it into your backpack for rougher trips.
>>> Click Here To See Specifications, Customer Reviews & Ratings <<<
Features Include
100% Polyester
Perfect for temperatures between 0 and 20 degrees Fahrenheit
Nice and roomy for backpackers up to 6'6"
Cover is Diamond ripstop polyester
Suisse Sport Adventurer Mummy Ultra-Compactable Sleeping Bag
Although it is only rated at about 30 degrees Fahrenheit, the Suisse Sport Adventurer Mummy Ultra-Compactable Sleeping Bag is one of the better backpacking bags you're going to find on the market, especially considering you can usually find it for sub-$40. It offers the best of all traits that backpackers are looking for, including lightweight, roomy, and it can connect with a paired bag for double occupancy.
For any backpacking in climates I knew wouldn't drop below 30 or 40 degrees, this has become my go-to bag. It's easy to pack into the stuff sack and at about 3 pounds I can hardly feel its presence while hiking. This is a treat compared to similarly rated bags that can easily hit and go beyond 10 pounds. I also found that the compression straps have held up for quite a while now, which ended up surprising me because, honestly, they felt a little iffy in the beginning.
If you're not planning to go backpacking in the snow or anywhere where the night-time temps can drop below 35 degrees or so, get this bag immediately.
>>> Click Here To See Specifications, Customer Reviews & Ratings <<<
Features Include
Dual-layer quilt construction rated to 30 degrees Fahrenheit
Well-made compression stuff sack
Draft tube and drawstring hood works great against wind and elements
Small and light – just what you're looking for in a backpacking sleeping bag
Coleman Palmetto Cool-Weather Sleeping Bag
I was a little hesitant to use the Coleman Palmetto Cool-Weather Sleeping Bag at first because its design and construction reminded me of the cheap bags my parents used to make me use when they'd take me camping as a kid. Thankfully, it really held its own and the Ready Tribe teammate who recommended it to me got to keep his reputation intact. Rated at 30 degrees, this bag kept me warm through the night and had a nice soft feel inside.
Since it's not a mummy bag, I was able to more easily position myself for a natural sleeping position as well. That being said, as long as the weather permitted, I actually slept better in this bag than most of the others noted. However, exposure to any of the elements immediately made me wish for a cozier bag. I should also note that if you're over 6 feet tall, this isn't the bag for you.
If you backpack with a good tent, this bag is a good choice and the price of under $30 seriously can't be beaten for the quality it offers. Furthermore, it's deceptively light, which is always a bonus, and the bag rolls and stores away neatly into its sack.
>>> Click Here To See Specifications, Customer Reviews & Ratings <<<
Features Include
100% cotton fill with 100% polyester cover makes for warm, comfy sleeping
Great at 30 degrees Fahrenheit and above
Machine washable
5-year manufacturer's warranty