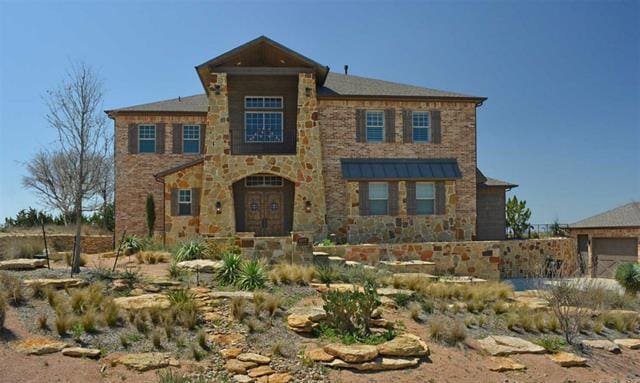 I think they need to bring back that MTV show "Cribs." But this time, it can't be about wasteful rich assholes showing off 100 cars, 45 bedrooms and 27 bathrooms that aren't even theirs. It needs to be all about survival.
And I'm sure this Texas home (pictured on left) would be in the first episode. Coming in at just under $1 million ($985,000 to be exact) this Possum Kingdom Lake, TX home isn't just the lap of luxury – it's a survival paradise (with an awesome lake view).
And really, why spend time and money getting your home prepared when you can buy one ready made!
The house isn't over-the-top – it sports 3 bedrooms (including a spacious master suite) and 4.5 bathrooms. It is an open-concept home with all the amenities. It has hardwood floors, an eat-in bar, stainless steel appliances and a great view from the deck.
Oh and there's even a putting green to keep your game in check before SHTF.
But what you can't see or notice from the main level is it's basement turned bunker. The 1000 square foot fallout shelter has enough space to sleep 12 people and includes 2×4 reinforced steel walls and a periscope viewing system. So you're safe and aware of what's happening in the outside world.
What's more is it comes with a heavy-duty NBC air filtration system, 6 compressed air tanks (for backup oxygen if the NBC system fails), solar panels for renewable energy, a backup generator and a 1000-gallon propane tank. Talk about being ready.
And I know what you're thinking, it doesn't have EVERYTHING you need, does it? Well maybe not. But it certainly comes close when you factor in the INCLUDED 10-year supply of MREs and other survival meals. But that's not all. It also includes an Ebb Monster system to grow your own plants.
Yup. It's that dope.
And to keep things semi-normal while the world is ending around you outside, the bunker is equipped with a laundry room, bathroom, living space and full kitchen.
But wait… what if some DOES get inside the home? There are 2 hidden escape hatches for whatever may happen.
I want this house.
Here are some more pics: