The 101 on Hydration Packs - My Review of CamelBak


In this article we will look at how you can choose the best hydration pack (many people call these Camelbak, regardless of the brand). Many people don't see the need for a hydration pack -- a regular backpack and a water bottle has been cutting it for years, so why fix it if it ain't broken?
What are the benefits of a hydration pack over a regular water bottle?
One of the main benefits of a hydration pack is that it's easier to drink when you're on the move. This is perfect if you're cycling, jogging or hiking. Stopping to drink with a water bottle will slow you down, and it might be inconvenient, nearly impossible or dangerous to do so.
We all know that staying hydrated is essential for optimum performance. A hydration pack encourages you to drink consistently and drink more. Water bottles carry way less water than most hydration packs, and as you typically wouldn't bring a half-full hydration pack, you'll bring more water.
The drawbacks of a pack is the cost, which normally span from $50 to $150 (on the lower end if you shop online, like on Amazon), where a plastic bottle is essentially free. A pack can also be harder to clean if you're drinking a lot of sports drinks - and depending on the model the cleaning job can be easy or a real pain in the ass.
Personally I'm not a big fan of sports drink; I use mine for water only, so it's not really a drawback for me.
Some people mention the weight as an issue, but the bladder (or reservoir) that holds the water inside the pack is only about a pound, so you'll hardly feel a difference compared to a regular backpack.
Cleaning a hydration pack
Even if you only use your pack to drink water, you will still need to clean it ever so often. Even clean can over time lead to bacteria growth, and you don't want that in your drinking water.

There is no way around it. If you use anything sugar or electrolyte based powder, you should really clean it after every use -- or every second use if you use it frequently. Cleaning means cleaning the hydration bladder, and all hoses.
The easiest ones to clean are those bags that zip open. Some bladders, like the ones from Geigerrig are dishwasher safe. The zip-open models also have the benefit of being quicker to dry, which is a a benefit if you're storing it for a longer period of time.
Some producers use a different design, where the openings are large enough to get a brush inside and clean it that way. This is generally how CamelBak and Osprey reservoirs are designed.
Some models can be hard to clean, and if you're using it a lot, how easy the bladder is to clean should be something to consider when you're shopping around.
Hoses are generally -- due to size and shape -- hard to clean, no matter the design. There are cleaning kits available for these, which includes a long skinny brush. You can also flush through the hoses, and if you're using it frequently, and you're not intending to store it for a long time, it will be good enough.
Comparing a hydration pack to a regular backpack
Even big hydration packs are generally streamlined, are narrow and compress well. They distribute the weight well, hugging a lot of the weight to your hips.
A backpack will hold more volume, but for my use, namely hiking and climbing, I don't really need to bring a lot of stuff with me. Water, a few energy bars, food extra clothes is all I typically need -- and my pack has plenty of room for that.
Pressurized hydration systems - yay or nay?
Some producers have a pressurized system, like Geigerrig. This means that you don't have to suck the water out of the system, but the water will squirt out as the bladder is pressurized by a second compartment inside of the water reservoir.
I'll leave it up to you to decide whether this is a great feature, or solving a problem that isn't really a problem. Sucking water from a straw isn't really a hard thing to do, and I'm a big fan of keeping things simple. The fewer moving cogs the better, and adding additional features such as a pressurized hydration system gives you one more thing that can break.
Personally, I found it to be more of a gimmick, but then again I also waited a long time to even by a hydration pack because it all seemed "gimmicky" to me ...
Using a Camel Bak or other hydration pack in cold weather
If you're in freezing temperatures, water will sooner or later freeze. It's just the way water and physics work.
To avoid this, you can insulate the hoses  using neoprene sleeves and insulated caps for the bite valves. As long as your not in really cold temperatures, and you're using the pack (keeping the water in the hoses moving), you shouldn't have any issues with freezing hoses.
The water in the reservoir generally won't freeze unless you take the bag off and leave it in the cold for a while. It will naturally move around in there as you're moving around, and it's better insulated than the hoses.
Where to buy one?
Any store selling sports equipment will sell hydration packs, at least the common brands such as Camelbak. What I've seen though, is that the price is often 20-50% higher than what you can find online. I personally recommend checking out Amazon, as these are popular items which Amazon will sell a lot of (which makes the price lower).
Hydration packs are perfect for ...
Whether you need a hydration pack or not will come down to what activities you're typically doing. I wouldn't choose a hydration pack as a road cyclist or a runner -- but for hikers, mountain bikers or for snow sports they are perfect.
For me, hiking is the main use -- and it's perfect for that.
My pick: Camelbak M.U.L.E.
When I bought a hydration pack, I settled on the CamelBak M.U.L.E. It comes in a few different varieties, including versions for kids and a version for women, but I picked this one (which is the classic best selling version). For me it's the sweet spot when it comes to size vs. storage capabilities. You will find smaller packs, but this one is big enough to work as a regular day pack, which is exactly what I wanted. It holds .8 gallons of water (3 liters).
The water bag:
Excellent quality, durable and strong. I've noticed on some bags there's a residual plastic taste, but not on this one!
When it drains off, the baffle running down the center inside keeps the liquid form moving around, and maintains the compression against your body.
You can detach the draw tube. This can also be done when the bag is full, as there's a no-leak quick release valve.
You can adjust flow and angle
The pack:
Plenty of room! Including a small top compartment, full length compartment and an outer compartment running halg the height of the backpack.
The water bag compartment is insulated from the rest, and the interior hanger keeps it upright and in place.
Magnetic tube clip. Snaps it to the shoulder strap
Great back padding support with ventilation
Adjustable chest strap
Helmet attachement clips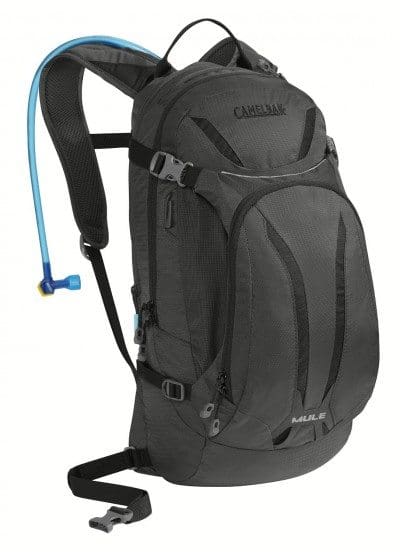 The design is almost identical to the original version first launched in 1996, but over the years they've tweaked it slightly based on feedback from climbers, hikers, mountain bikers and other users, and added features such as a ventilation system to keep your back cool, along with compartments and pockets for the gear we all carry today like cell phones.
The price, at least when you buy from Amazon, includes the pack, bladder/reservoir and the tubes -- everything you need.
If you're looking for a smaller pack, I'd pick this one called Camelbak Hydrobak-- which has the same quality, but no storage space (making it much smaller).
Check out this video review of all the features:
[cleveryoutube video="fBlzD_X2Wqw" vidstyle="1" pic="" afterpic="" width="" quality="inherit" starttime="" endtime="" caption="" showexpander="off" alignment="left" newser="" margin="true"]
Find the best offers on CamelBak M.U.L.E. here
Photo by Guiseppe Milo, CC