Hidden Gun Storage Solutions That Are Cool and Practical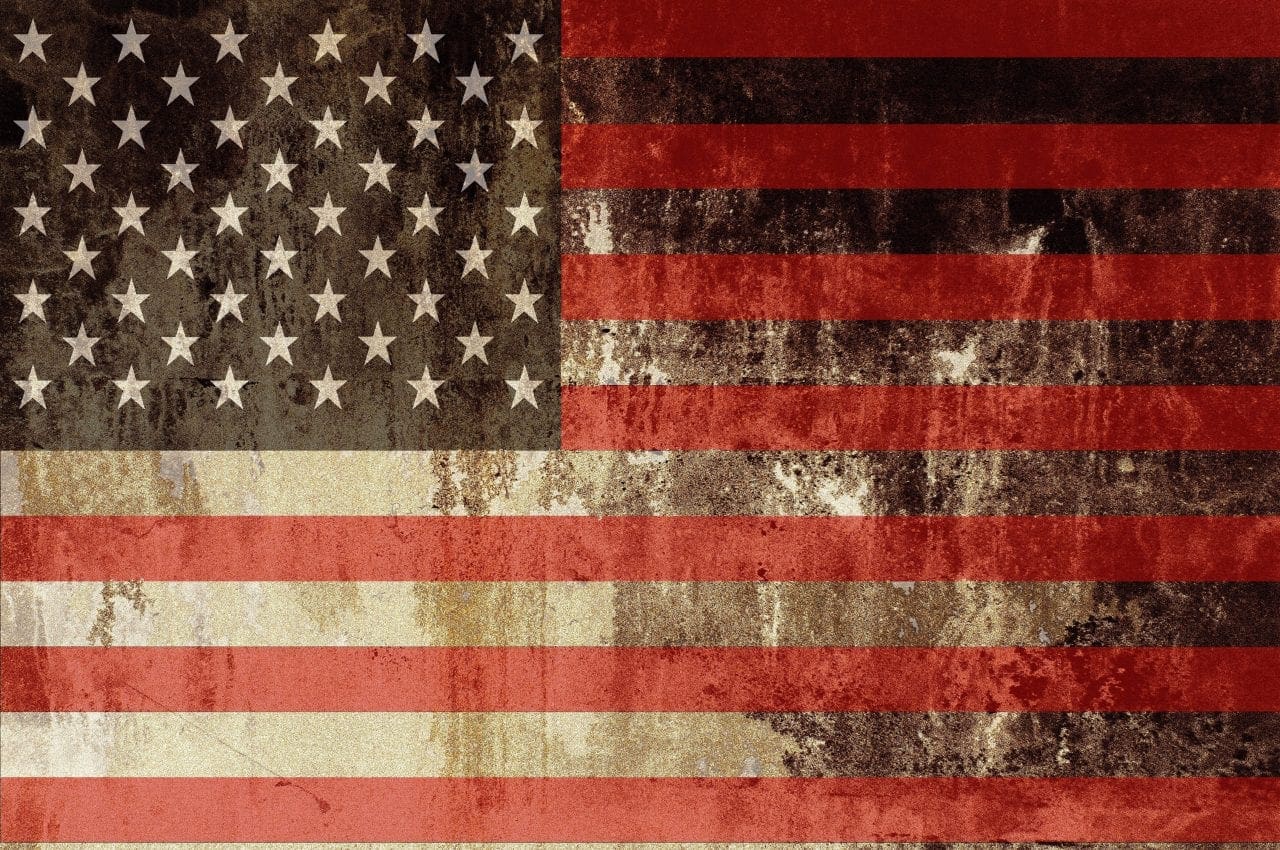 Over the past few years, there has been a run on gun sales in the country.  Blame Obama, terrorists, or your everyday criminal if you want.  I chose to think that guns are a great hobby to have, as well as an excellent tool to keep around should someone decide it is time for you to be a victim.  Homeowners do have an issue that they need to contend with, though, and that is properly securing their firearms.  Hidden gun storage offers us all unique ways to secure our firearms in a safe place, that is also easy to get to if you are not the home carry type (why you wouldn't I don't know).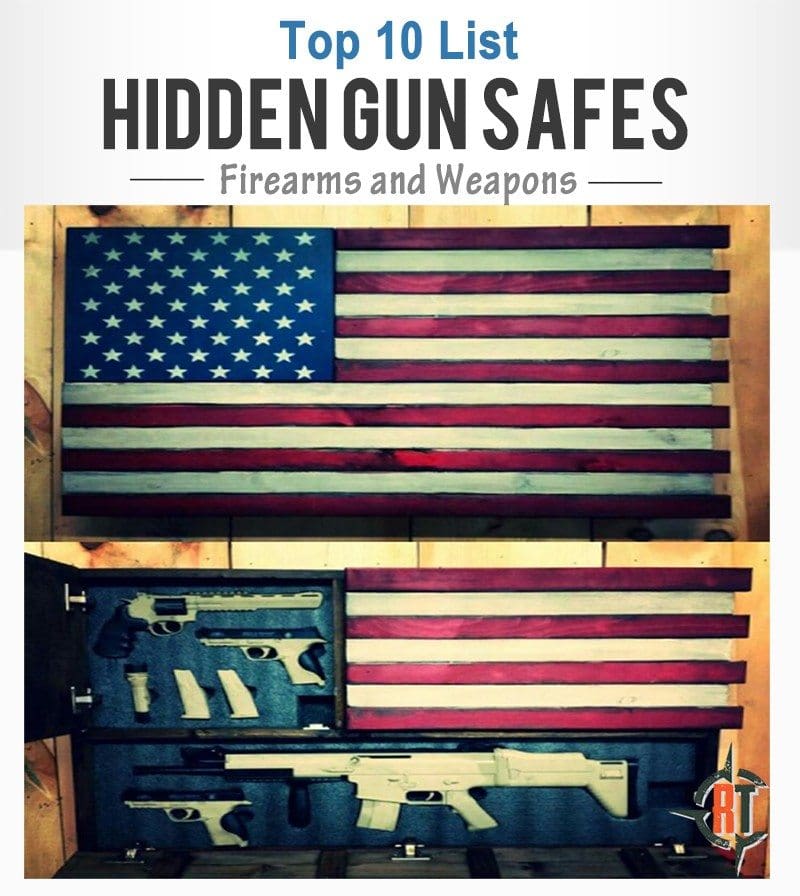 Check out this interesting collection of hidden gun safes I was able to dig up on the ole interwebs.
If I could, I added a link to the sites where you can purchase them, and at the very least I added a link to where I found the picture.
If you find one here that doesn't have a link to the creators site, leave a comment down below with the right link.  We love to give credit where credit is due.
Top 10 Hidden Gun Storage Pieces (if there are more don't judge me, I went to public school)
The first one on my list comes from the folks at Rough Country Rustic Furniture out of Mountain Grove, Missouri.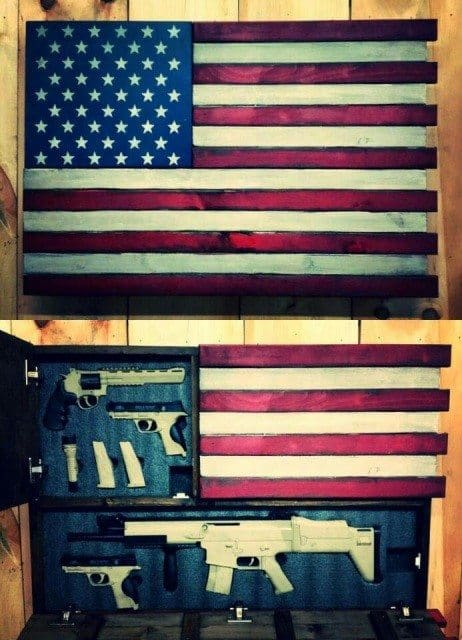 They call it their "Deluxe Home Defense Concealment Flag", I just call it cool.
It features two concealed, locking weapons compartments.

Measuring 26" tall and 40"long, providing ample concealed, secure hidden gun storage space for several weapon platforms and is Hand-crafted from solid wood.
There is a concealed compartment behind the Union for storage of 2 full-size handguns, extra magazines, and a tactical flashlight.
Then there is a concealed compartment in the lower half of the flag which can hold any AR style platform Rifle or Tactical Shotgun and a spare handgun.
The website says that you can get any type of flag variation you want in their drop down list, however, you can't see pictures of the other options so you'll have to email them.
---
This one is not a safe, as a matter of fact, neither is one up there, however, who cares it's also pretty cool.  And the best part is you could potentially put one of these up in every room of your house.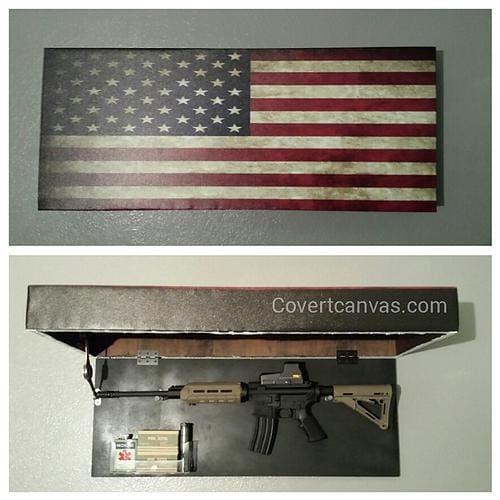 Covert Canvas from Chandler, Arizona makes this one and it is one of eight designs.
They might have more that are not listed on the site and I bet if you contact them you could potentially get some custom ones made up with images you want.
The box is 36" X 15" and have two pegs that hold your rifle up.  You can order it with their standard issue lock, or add magnetic lock that you install yourself when it's delivered for an extra $25.
---
This is for all you office jockey's like myself who can't, or chose not to, carry all around the office.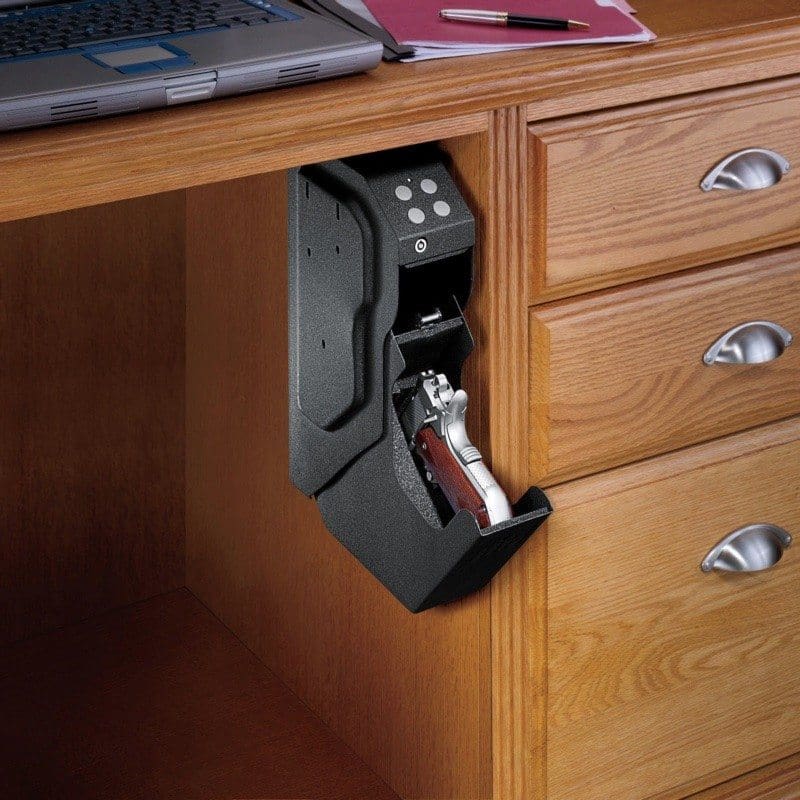 What I really like about it is how simple the lock is designed for ease of access.
Plus, another winning feature, is how the weapon is almost at the ready position when you take it out.
It is sold by Gander Mountain for $179.99.
---
This one is from the folks over at Tactical Covers out of Virginia.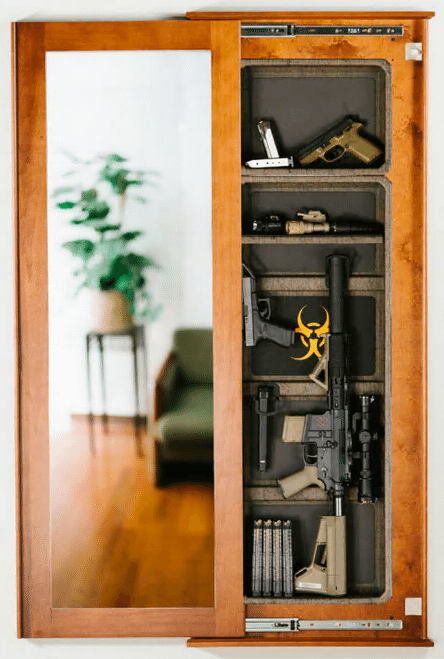 Basically, the hidden gun storage cabinet that you see there is installed in between the studs of your wall, assuming they are 16 inches apart, then you stick that bad boy right into the hole and you're good to go.
As you can see from the image, it does hold a lot of things, however, it is not a traditional safe as the lock is magnetic.
All in all, though, if you install it right, nobody will know it's there except you.
Oh, one more cool thing about this solution, you see how some of the items are stored?  Those are magnets holding them up, can't get much easier access then that.
---
This one of the standard hidden gun safes.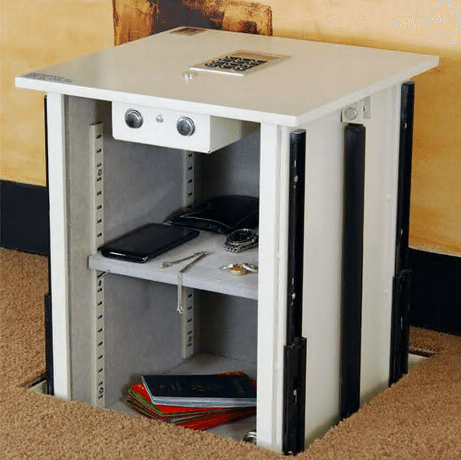 It would be way more practical if you are adding it into a new home, however if you have a spouse who is cool with you adding an in-floor safe to the master closet, this is a good option.
It is made by a company called Protex and they sell it on Amazon.
I also clicked around a bit and they have a bunch of other hidden gun storage solutions there you might like so make sure you check them out before ordering.
---
This one is interesting, however, I don't find it very practical, especially if you have to get to it in a hurry.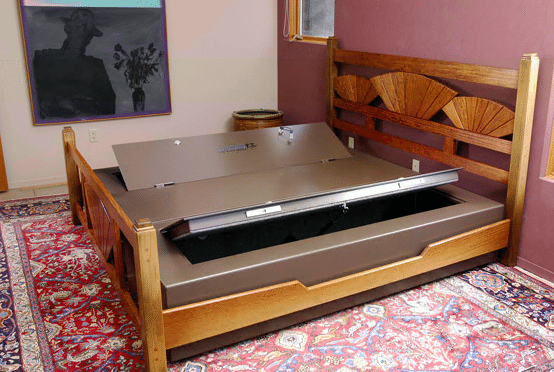 It was sold by a company operating a website at bedgunsafe.com (it's no longer there) back in 2011 and I didn't find any other people making something like it.
Probably for good reason, unless you sleep on an air mattress, who wants to have to move the whole bed around every time you go to the range.  The website did say that it was approved for use in California so that probably explains it.
---
This hidden gun storage solution is pretty cool, unfortunately, I could not find a manufacturer for it.
Perhaps if you know how to contact the people behind the Accurate Shooter website where I found it, you can track down who makes it and share it here with everyone.
What I like about it is that it is so unique.  I mean, really, if you sat down at that table for dinner you would never know that there was a few select firearms right under your dinner plate.  And with the hidden lock access there on the side, you know that your collection is going to be safe and secure.
---
Any list of hidden gun storage and safe solutions would not be complete if I didn't throw in some plans for you DIY folks.
I honestly believe that some of the best solutions are those that you can not buy on the internet.  This setup is a great project for you to do at home, and by looking at the plans, it does not seem that it would take all that much experience to make.  Just follow the instructions provided by the folks over at SawDust 2 Stitches and you will have a unique storage solution that fits right in with the rest of your house.
You are going to need some tools to build this thing, however, if you don't have them it does make a great excuse to go buy them for your workshop.
---
If you are like me, you have a firearm or two next to the bed.  Now, I don't sleep with one under my pillow since I move around so much at night and have had the occasional scare dropping my weapon on the floor, I do keep one within reach.


This nightstand solution created by Covert Furniture looks like a great addition to any home.
For me, I would want the natural look of the wood, versus that medium-dark stain, however with some sand paper and a bit of elbow grease that could be fixed.
What I like about this is that the furniture keeps its practical purpose, while also providing a unique, and safe, hidden gun storage solution.
Covert Furniture also has a few bigger pieces you might like so make sure you check them out.
---
Last, but certainly not least, let's take a look at a big money solution for you super collectors.
This thing is so cool, I almost want to get it, just to I can buy more guns to fill it up!
You can see all the images for it on The Outdoor Shopper website, however here is a five-minute video showing off everything this bed has.
[cleveryoutube video="5gmkTEIg9hs" vidstyle="1" pic="" afterpic="" width="" quality="inherit" starttime="" endtime="" caption="" showexpander="off" alignment="center" newser="" margin="true"]
---
So I hope you liked this list that I put together.
With any luck, you'll end up adding one of these cool items to your house.
Or perhaps you can think of something that works a lot better.  Remember, in the end, when selecting hidden gun storage for your home keep readiness and ease of access in mind.  Obviously, the best way to be prepared is to home carry, but when it's not possible you don't want your protection so hidden you can't access it when you really need it.