5 Easy Camping Recipes For A Great Family Getaway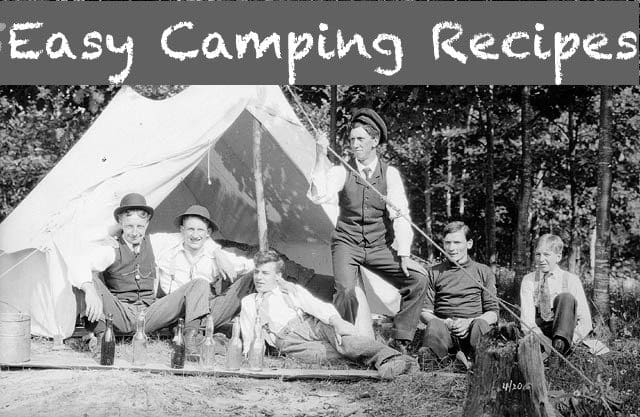 Camping can be a great experience for both the young and old and one of the best ways to enhance that is through the food you eat while you are out.  With that in mind, I put together this list of 5 easy camping recipes for you to try on your next trip.
Keep in mind, this list isn't for the "gun ho" of you who's idea of camping is a backpack, thin sleeping bag, and a multitool.  This post was written for people who just like to shut off the computer and mobile phone, tune out social media, and escape from the daily grind that is life.
Enjoy!
5 Easy Camping Recipes from the Interwebs
The first recipe that I want to highlight I found on Taste and Tell, it's a foodie blog and there are a bunch of great things to add to your kitchen tool box there.  However, this particular recipes is great because it involves the most important meal of the day and probably the best tasting if you just figured out your sleeping bag isn't rated for the weather and you just woke up freezing to death!
Breakfast Burritos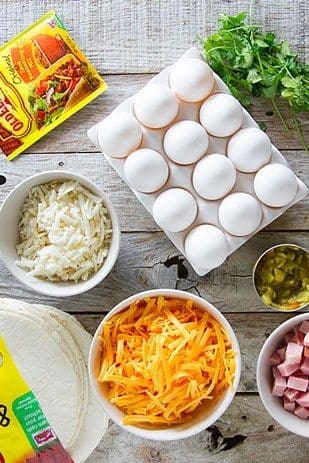 My grandfather actually taught me how to cook a lot of food in a fire pit using tin foil so this recipe is right up my alley.  As a matter of fact, if you want to practice this one at home before your trip you can make it in your charcoal BBQ one night for dinner, if you're a breakfast for dinner type family.
This recipe will take you 45 minutes to prepare and cook, which is not too bad, plus it makes 8 burritos depending on how much filling you use for each one.
Ingredients
½ tablespoon olive oil
1 cup frozen hash browns
8 oz cooked ham, diced
12 eggs
1 tablespoon Old El Paso Taco Seasoning
1 (4.5 oz) can Old El Paso Green Chiles
2 cups (8 oz) shredded cheddar cheese
¼ cup chopped cilantro
8 (12-inch) Old El Paso flour tortillas
Instructions
Heat the olive oil in a large skillet. Add the hash browns and cook for 1 minute, stirring continuously. Add in the ham. Continue to cook, stirring occasionally, until the hash browns and ham have browned about 8-10 minutes.
Meanwhile, in a large bowl, lightly whisk the eggs. Whisk in the taco seasoning. When the hash browns and ham have browned, pour the eggs into the skillet. Cook, stirring frequently until the eggs have set. Stir in the green chiles, cheese, and cilantro.
Warm the tortillas. Put ⅛ of the egg mixture down the center of each tortilla. Roll up like a burrito and wrap tightly in foil. Store in a ziptop bag in the refrigerator or in a cooler.
When ready to cook, place wrapped burritos in hot coals next to fire. Let the burritos sit in the coals, turning once, until heated through, about 10-15 minutes. (The time will depend on how hot your fire is.)
Chilaquiles with Blistered Tomatillo Salsa and Eggs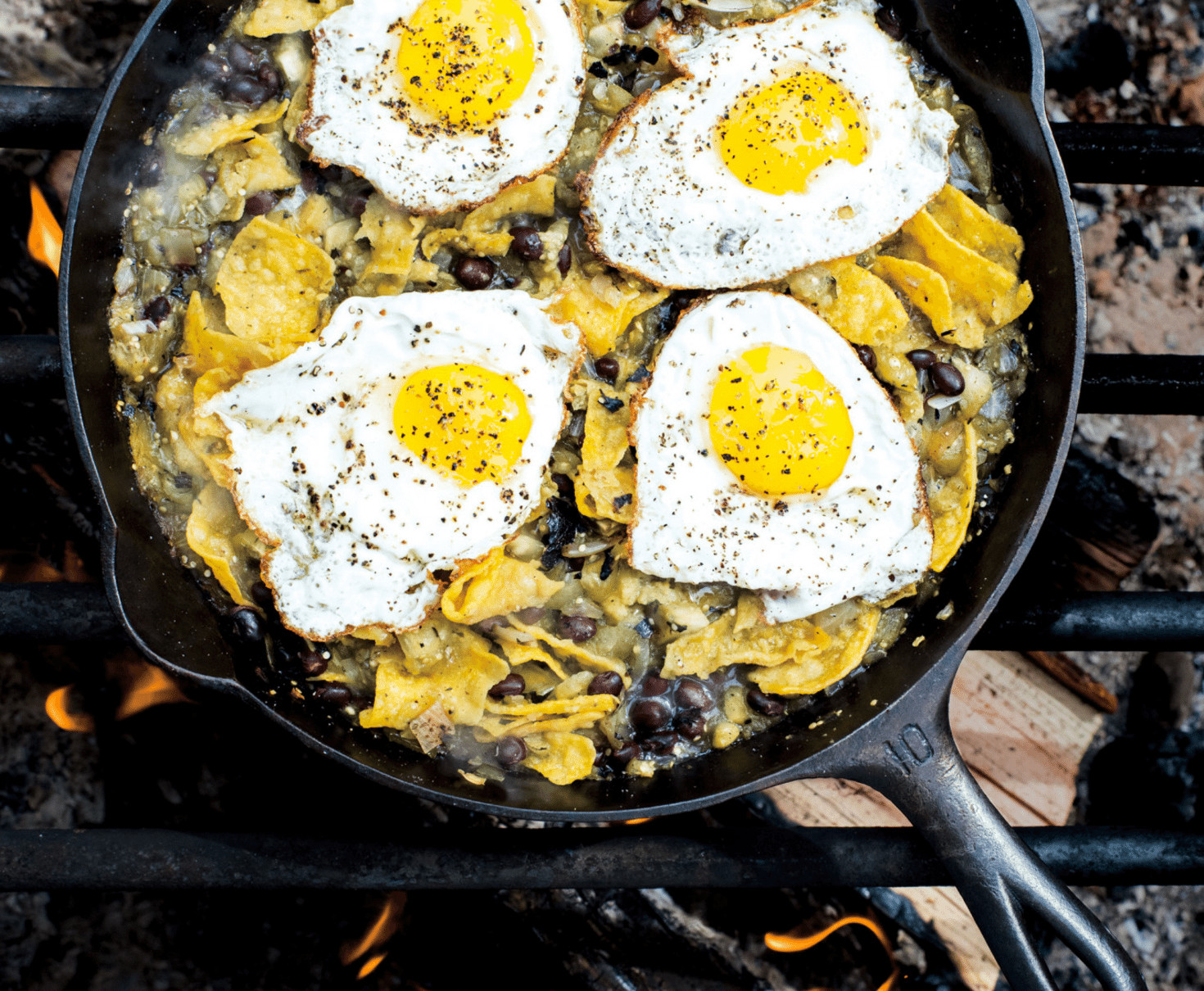 I don't know about you, however to me that pan just looks great and is really making me hungry right now!
I found this recipe on
BonAppetit.com
, and it is actually one of 25 that they have made into a slide show.  So I highly recommend that you check that out as well, there are some great things to make.
Now you are going to need a set of cast iron cookware to make this over a fire so I recommend you add that to your packing list, unless of course you know how to make pottery out of clay, then you can give that a shot (let me know how it works out).
This meal serves four, it is only my wife and son here, so I'm going to have seconds.
Ingredients
2

tablespoons

vegetable oil, plus more for grill

2

pounds

tomatillos (about 20 medium), husks removed, rinsed

2

jalapeños

1

large white onion, quartered through root end

2

tablespoons

fresh lime juice

Kosher salt and freshly ground black pepper

4

large eggs

1

15-ounce can black beans, rinsed

1

10-ounce bag yellow corn tortilla chips

½

cup

plain Greek yogurt

2

ounces

ricotta Salata (salted dry ricotta), crumbled

Hot sauce and cilantro leaves
Instructions
Prepare campfire for medium-high heat; lightly oil grate. Grill tomatillos and jalapeños, turning occasionally, until lightly charred and beginning to collapse, 8–10 minutes; transfer to a cutting board.

Meanwhile, grill onion, turning occasionally, until charred and beginning to soften, 10–12 minutes; transfer to cutting board with charred tomatillos and jalapeños.

Finely chop tomatillos, chiles, and onion and transfer to a large skillet. Add lime juice and toss to combine; season salsa with salt and pepper. Set aside (keep in skillet).

Heat 2 Tbsp. oil in another large skillet on camp stove over medium-high. Crack eggs into skillet; season with salt and pepper. Cook, rotating skillet occasionally until whites are golden brown and crisp at the edges and set around the yolk (which should still be runny), about 2 minutes.

Heat reserved salsa on camp stove over medium heat just to warm through. Mix in black beans and tortilla chips and cook, tossing and adding up to ¼ cup water if needed to loosen, until chips are just softened, about 3 minutes.

Serve chilaquiles in a skillet topped with eggs, dollops of yogurt, ricotta Salata, hot sauce, and cilantro.
30 Minute Goulash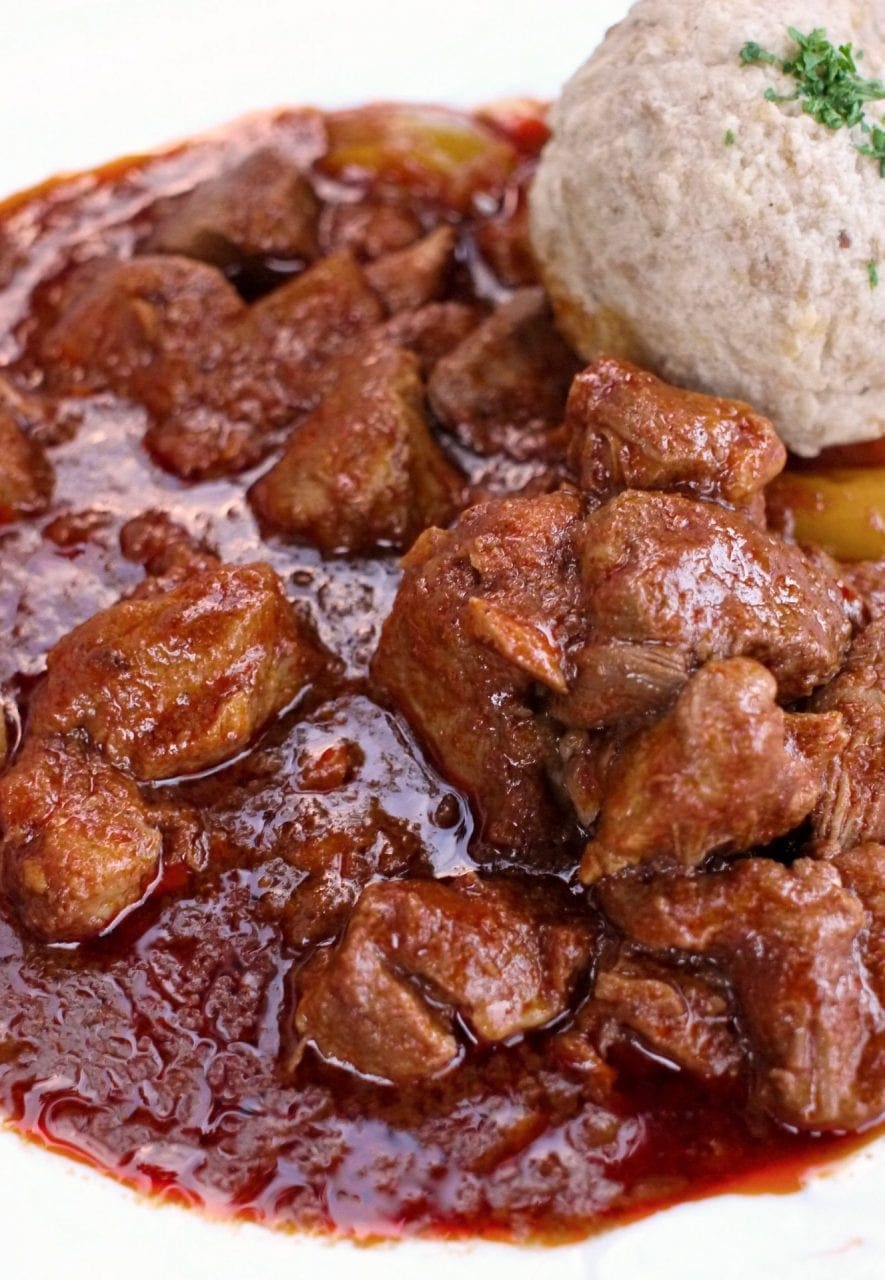 I can actually make a pretty mean goulash in the crock pot at home.  I let that bad boy sit all day long cooking on low and I have to say that it tastes great, if I do say so myself.
This particular recipe comes from KOA.com and it is part of their huge list of recipes for all sorts of meals and side dishes.
Ingredients
3  Tbsp  oil and/or butter
2  cloves garlic (or 1/2 teaspoon powdered garlic)
1  large onion
1  pound(s)  ground beef
1  26 ounce can of whole tomatoes
1/2  tsp  dill seed
1  tsp  parsley
salt and pepper to taste
Instructions
In 3 tbsp of oil or butter, saute 2 cloves of fresh garlic, peeled and chopped (or later, when browning the meat, add 1/2 to 1 tsp of powdered garlic, depending on your taste.
While the garlic is simmering, peel and slice (about 1/4' thick slices) 1 large onion (of any kind). Do not chop. Add it in its whole rings, and turn up the heat all the way.
When the onions are soft and beginning to brown, add 1 lb of ground beef, not too lean as fat adds flavor. Mix with the onion and garlic and cook until brown (at this point, if you are really concerned with fat and cholesterol, drain excess fat). Add salt and pepper to taste.
While the meat is browning, open a 26 oz can of whole tomatoes. When the meat is brown, add the juice from the can and the tomatoes, tearing them into small pieces with your fingers. This creates a juice, rather than a gravy. If the tomatoes come in a thick sauce, add water until it becomes juicelike. This is important since it will be served over rice.
Add 1/2 tsp of dill seed and 1 tsp of dried (or fresh, chopped) parsley.
Cover and simmer.
Cook 1 cup or your favorite rice. When the rice is done, so is the goulash.
Place 1/2 cup of rice on each plate and cover with goulash, making sure to serve with plenty of juice. A salad and brown-and-serve dinner rolls go well with this, too.
Chicken and Chorizo Chili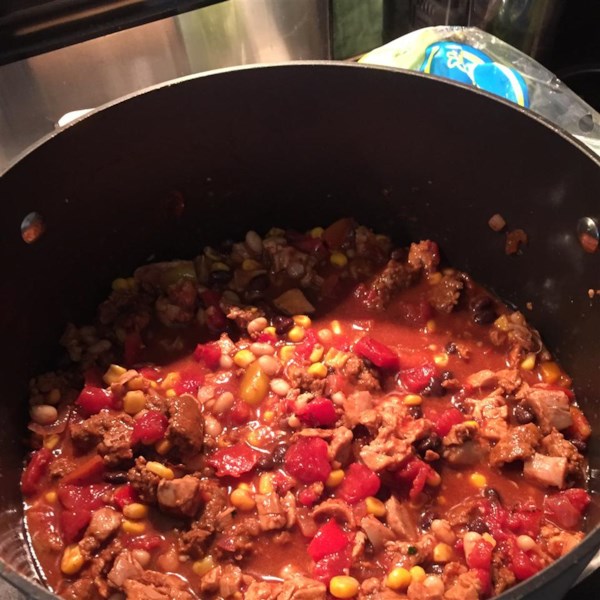 Who does not love a good chili any time of the year?
Chili is probably one of the best food groups there is after all, and I never go camping without a plan to make a great chili at least once during the trip.  And if you are a Chorizo lover, you are definitely going to love this recipe I found at Allrecipes.com.  All you need is on Dutch Oven and you're good to go!  One thing I will add here is that Allrecipes.com has a great selection of dutch oven recipes you can use camping or at home so make sure you check them out.
Ingredients
1 tablespoon extra-virgin olive oil
3/4 pound chorizo sausage, chopped
2 pounds ground chicken
1/4 cup chili powder
1 1/2 tablespoons ground cumin
1 onion, chopped
3 cloves garlic, finely chopped
1 red bell pepper, chopped
1 (15 ounce) can black beans, drained
1 (15 ounce) can white beans, drained
1 (12 fluid ounce) can or bottle beer
1 (28 ounce) can fire-roasted diced tomatoes, with juice
3 cups chicken stock
1 (6 ounce) can tomato paste
salt to taste
Instructions
Heat olive oil in a Dutch oven or a large pot over medium-high heat; cook and stir chorizo in hot oil until heated through, about 2 minutes. Remove chorizo using a slotted spoon to a bowl. Add chicken; cook and stir until chicken is browned and crumbly, 5 to 6 minutes. Season with chili powder and cumin.
Stir chorizo, onion, garlic, red bell pepper, black beans, and white beans into chicken; cook and stir until onion begin to soften, 5 to 6 minutes. Pour beer into chili; bring to a simmer. Add tomatoes, chicken stock, and tomato paste; simmer until heated through, about 5 minutes. Season with salt. Reduce heat to low and simmer until flavors blended, about 30 minutes.
Bill's Trout
Last, but not least, this recipe is for you fish lovers.
It's an easy to follow recipe from the folks at MyRecipes.com that doesn't take a lot of time to make.  And since you already have that cast iron skillet from before, this is a great addition to the 5 easy camping recipes list.
Ingredients
1/2 cup corn meal
1/2 cup all-purpose flour
Salt and pepper
5 or 6 slices of bacon (about 1/4) to make 2 to 4 tablespoons of bacon drippings (cause who doesn't like bacon)
Instructions
There are instructions on how to cook this at home as well, however, since we are camping here I won't add them.  If you want to check them out for yourself click the link above to see them.
Gut fish. If desired, or for fit in pan, cut off heads and tails. Rinse fish well.
Put fish in the plastic bag with the cornmeal mixture and shake to coat.
Put bacon drippings in a nonstick 10- to 12-inch frying pan over medium heat. When hot, add fish to pan without crowding. Brown well and cook just until thickest part flakes easily when prodded to the bone, about 5 minutes per side, depending on size. If desired, serve bacon with fish.
Ok, that's it, that is my list of 5 easy camping recipes that I found on the ole' interwebs for you to try.
I know, I left out meals for those of you who are hard as nails and can live off of a dung beetle and suck water from moss, I get it.  However, even you folks can't deny that these 5 easy camping recipes are making you want a snack right now!