The Best Hiking Boots Under $200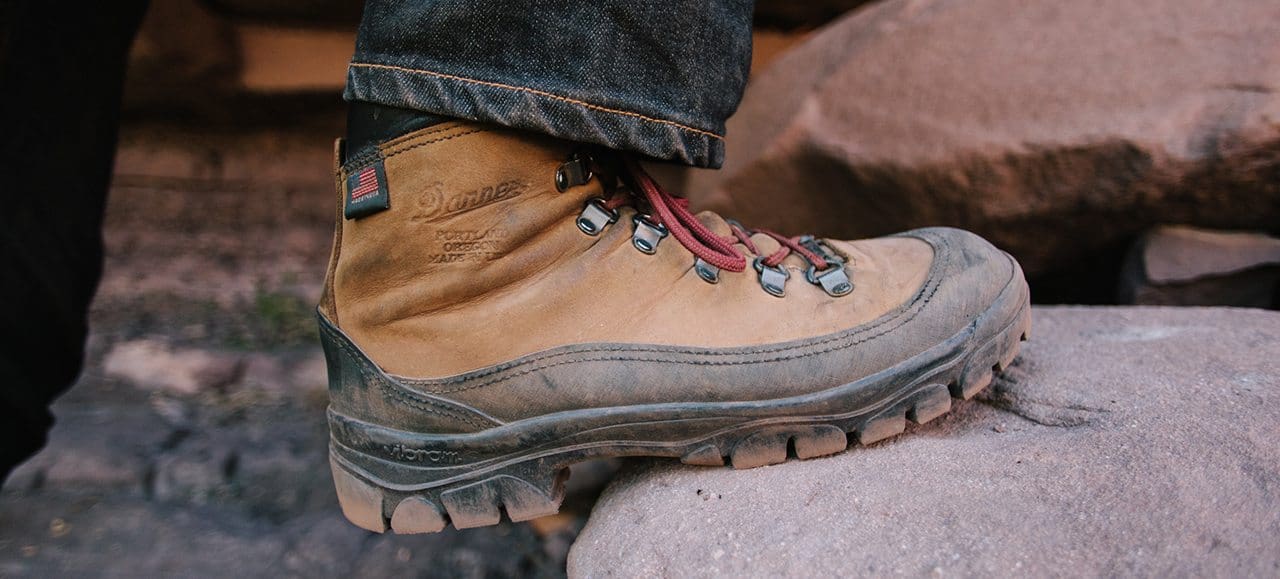 If you're starting to get serious about back country hiking, it's time to ditch your old sneakers and get into a pair of high quality hiking boots.  Friends & family ask me all the time why hiking in more comfortable walking/running shoes is such a bad idea.  I always give them the same response..."would you go scuba diving with your running shoes"?  Of course not.  You wear diving fins because they're designed for a particular purpose.  It's the same with hiking boots.  They offer more ankle support and stability over rough terrain.  They usually feature thicker, sometimes waterproof linings for warmth.  Not to mention a sole designed for improved traction on rocks and loose ground conditions.  Choosing a great pair of boots really comes down to what feels best on your foot, but these are a few of my favorite brands/models that you should definitely consider when choosing a quality hiking boot.  You can easily spend over $300 for a high end boot, but I've kept this list under $200 so we don't break the bank with your first set of good hiking boots.
KEEN Men's Targhee II Mid Waterproof Hiking Boot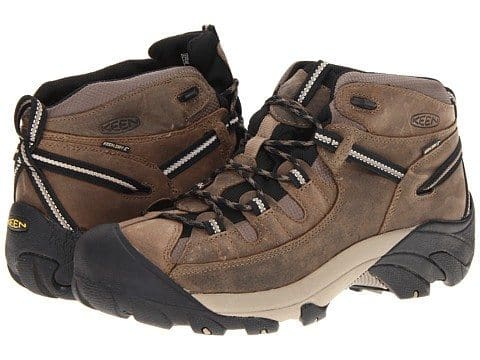 I really love Keen brand of boots.  They are as comfortable as an athletic shoe and offer amazing foot support, which really helps keep the soreness factor down when you're doing some miles.  I've probably owned at least 3 pairs of Keen's over the years and they have never let me down.  The Targhee II is cool because you can get it in a boot or shoe style.  The multi-direction lugs definitely help bite into the terrain and reduce slippage.  The toe protection wraps up and over the outsole, which obviously reduces wear on the shoe toe itself, but also gives you more protection from rocks and hard objects.  The only bad thing I can say about these boots is the waterproofing could be slightly better.  I would say they're water resistant, but some moisture can get through to the liner if it's exceptionally damp out.  Obviously if you try to cross a stream in these, you're feet are going to get wet, but aside from that these are an excellent hiking boot.

Features
Sporty lace-up boot with waterproof upper
EVA midsole and removable footbed for exceptional support
S3 heel support prevents ankle injuries
Keen-Dry liner
Multi-directional lugs for amazing traction
Price
Timberland Men's Chocorua Trail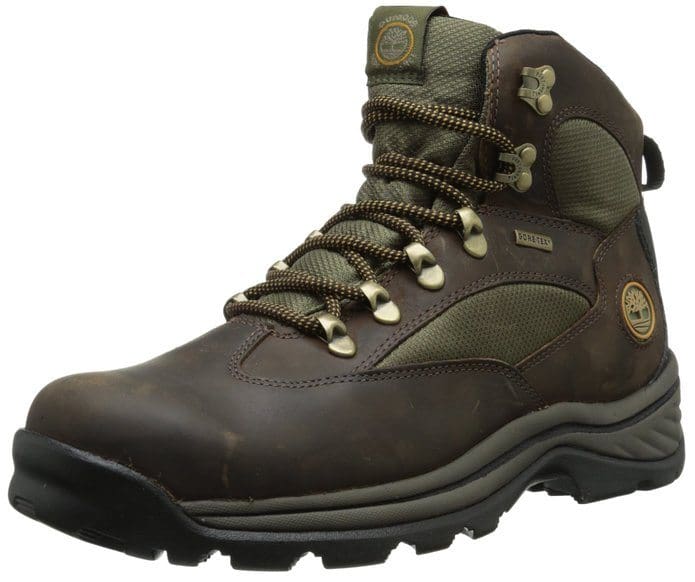 The Timberland Chocurua is an amazingly durable, comfortable boot that really impressed me.  They fit great right out of the box, so there's no need to break these in.  The waterproofing is considerably better than the previous KEEN model, mainly because of the Gore-Tex construction. They're also very light weight for a mid hiking boot at about 1.3 pounds each.  The toe protection isn't as good as the KEEN, but it's adequate.  The lacing system is simple yet strong.  I really love the look of the clean leather upper with the subtle colored inserts.  The traction was decent, but I would like to see a more aggressive, wider spaced lug patter to really dig into loose gravel and dirt.  Ankle support was extremely good as well, however you may want to use an aftermarket set of insoles. The original insoles are fairly thin and cheap.  These are great for spring & fall backpacking as well as a daily work boot.  All in all an excellent boot that feels great on your feet and will last for a long time.
Features
Premium full grain waterproof leather upper, mesh panels
Removable Dual Density EVA footbed, EVA, nylon shank
Flexible solid rubber sole
3.25lbs/pair
Price
Danner Men's Radical 452 GTX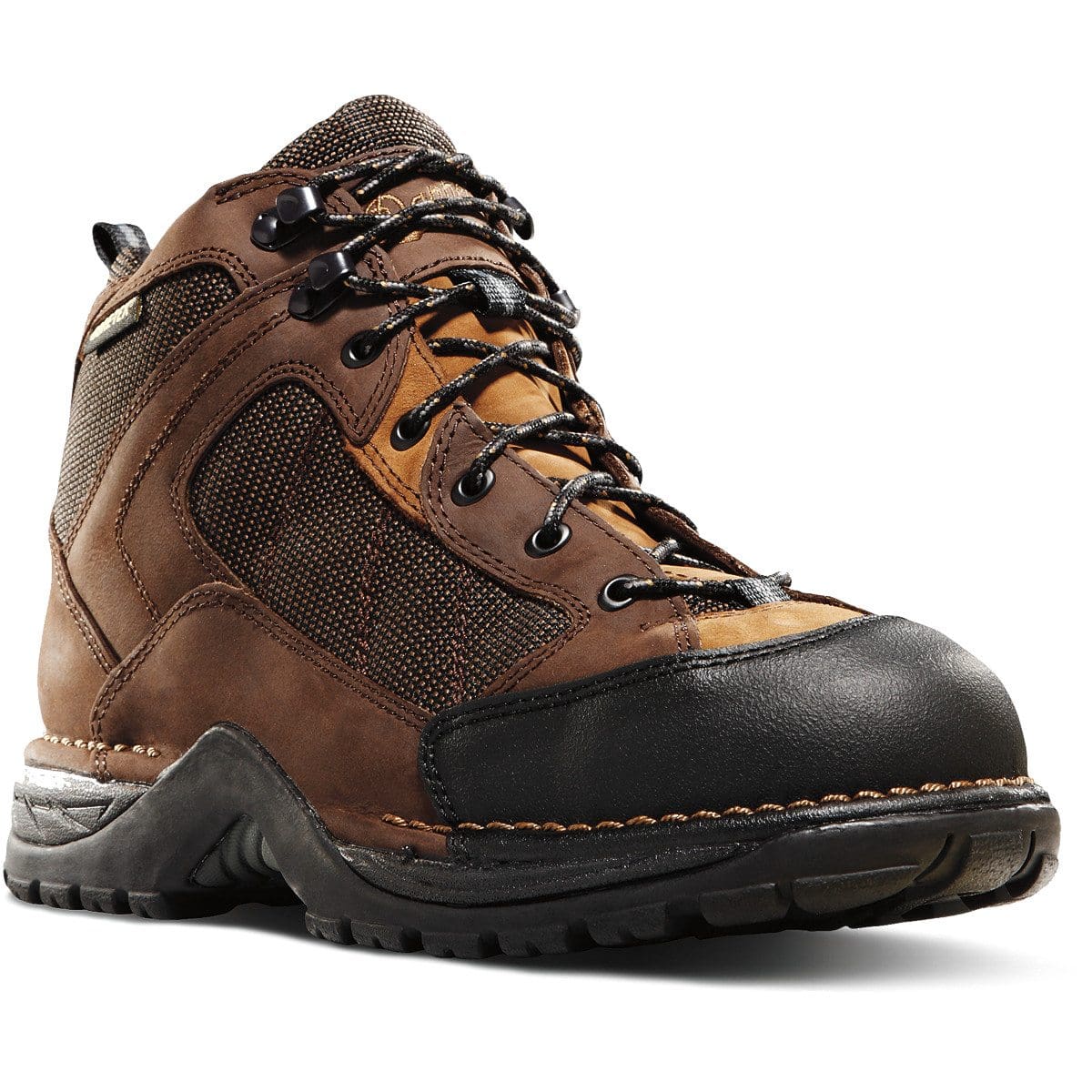 This Danner model is another boot I really like for it's out of the box comfortable fit and low weight.  This boot definitely feels like you're wearing cross trainers, but you get all the support you need for hiking rough terrain.  Full leather upper, breathable Gore-Tex liner and scuff proof toe cap make this an excellent boot for the price point.  Pretty good traction as well, but could probably still be improved a bit. I found that the toe box on this model is larger than many other hiking boots with smaller boxes.  You'll get some occasional rubbing on those brands with small toe boxes, but these Danner's are very roomy in the toe with no uncomfortable rubbing.  These boots will get the job done for work, backpacking, hiking or just as an everyday boot.

Features
Abrasion-resistant toe cap
Molded EVA footbed
Molded rubber heel counter
Nylon mesh lining
Synthetic sole
Weight 1.9 lbs/boot
Price
Merrell Men's Annex Mid Gore-Tex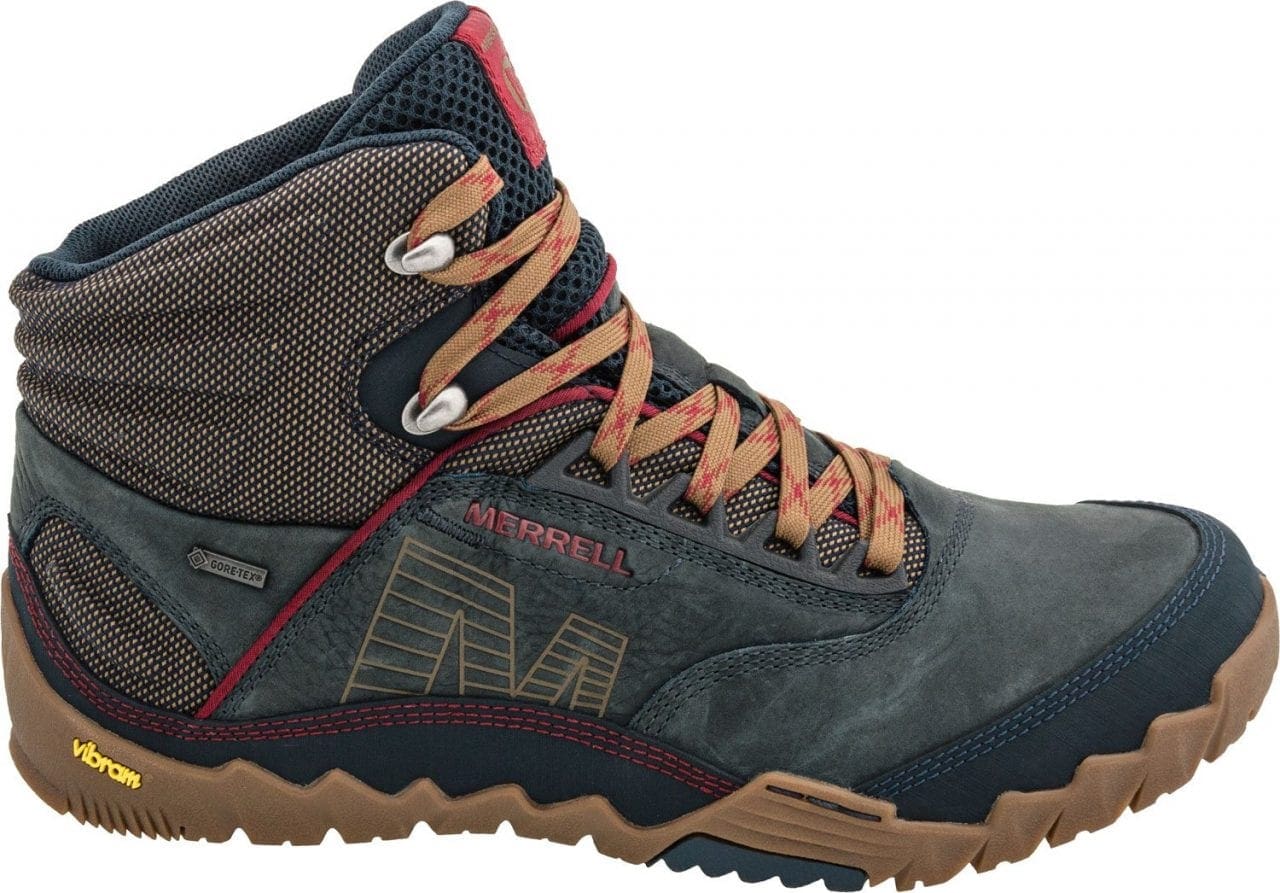 I included this Merrill Anex model in my list because I know some people's feet just don't get along well with a traditional hiking boot.  This model is definitely more of a hiking shoe, but don't let that fool you.  You get all the features and support from the Annex as you would any other Mid height hiking boot.  This hiking shoe screams comfortable, and it truly is.  Absolutely no break in period at all.  Lace em' up and hit the trails the same day, with no discomfort.  Constructed from a combination of leather and synthetic materials, it's got the durability factor with the feel of your favorite pair of sneakers.  Because it's not a traditional boot, the weight is only 1 lbs/shoe, which you will definitely appreciate after a 5+ mile hike.  The aggressive sole pattern has more traction than most boots I've worn.  You absolutely can't go wrong with any of the Merrill models, but the Annex in particular is one of my all time favorites.  This will become your everyday shoe if you pick up a pair.  Price is a little more than the other boots I've reviewed, but you're getting lightweight construction, waterproof liner, Vibram sole, and pure comfort fit.
[cleveryoutube video="F_NeAOkCRRE" vidstyle="1" pic="" afterpic="http://www.readytribe.com/wp-content/uploads/2015/09/ReadyTribe-RT-Only-01.png" width="625" quality="inherit" starttime="" endtime="" caption="" showexpander="off" alignment="center" newser="" margin="true"]
Features
Waterproof Oily leather upper
Remember Me Foam footbed
Rubber outsole
1 lb 1 oz / shoe
Gore-Tex lining
Runs true to sizing.
Price
So there you have it.  You won't go wrong with any of the boots on this list.  You can definitely spend a lot more money if you want, but these are all quality boots that will provide you years of great hiking.  The prices are extremely reasonable and I've found that Amazon.com almost always has the best price out of all the major online shoe retailers including Zappos, REI, Cabela's etc.