The Best Camping Hammock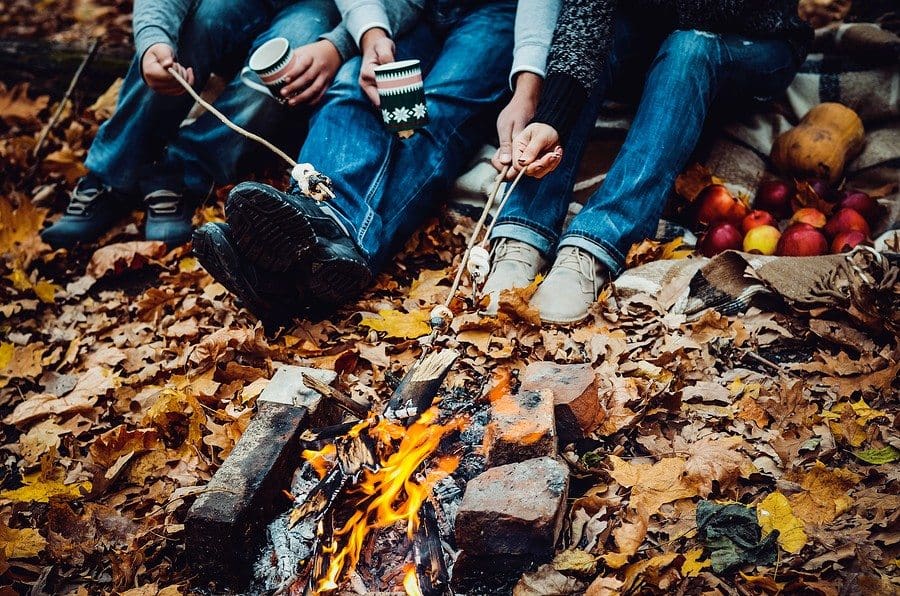 For most people, camping evokes images of trekking into the pristine wilderness and drifting off to sleep with an unobstructed view of the night sky. Camping enables you to get away from the stresses of everyday life and enjoy the great outdoors. It can also be your best option during an end times scenario. Although you need the right equipment for a wilderness survival situation or weekend recreational outing, the freedom and pleasure of camping remains an elusive quest for many because of their unmanageable logistics trail. The Neolite Double Camping Hammock is a versatile piece of gear that enables you to lighten your load because it can serve numerous purposes.
The Neolite Double Camping Hammock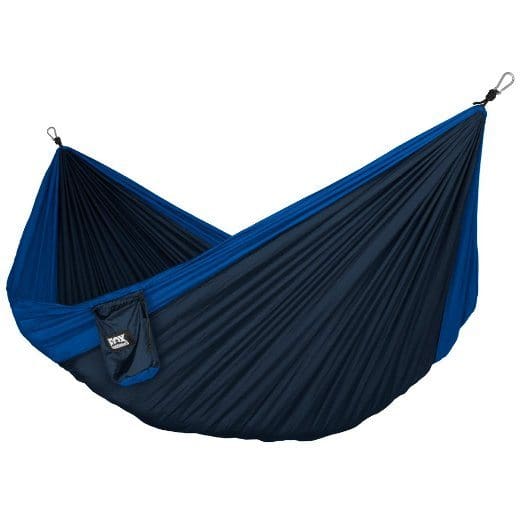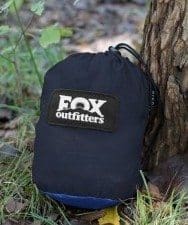 The Neolite Double Camping Hammock is a comfortable, easy to hang piece of equipment that is ideal for camping, backpacking or just relaxing in the backyard or at the beach. The compact, ultra lightweight hammock is made from strong, breathable woven parachute nylon fabric using heavy-duty ripple interlocking stitching. Along with the required hanging ropes, the quick-drying hammock comes packed in an integrated drawstring storage bag so that you have one less item to worry about losing. The bag can double as a convenient place to store small personal items like keys and phones or other gear when relaxing in the hammock.
The go-anywhere, do-it-all hammock sets up in minutes. The ingeniously designed nautical-grade ropes incorporate a series of overhand knots that produce small loops. Wrap the cord around a pole or tree and select the loop that provides the desired length. Once the ropes are in place, use the steel carabiners to click the hammock in position to provide a comfortable relaxing spot for two people. When properly waterproofed, the extra fabric can be slung over a single person to create a cocoon that provides a light barrier against bugs and the weather.
When unfolded, the hammock is 10 feet 6 inches long and 6 feet 6 inches wide. When you are ready to take it down, the hammock easily fits back inside the storage bag. After it is rolled up, the hammock is about the size of a football at 7 inches tall and 5 inches in diameter. Although it weighs only 19 ounces, a Neolite Double Camping Hammock can support up to 400 pounds.
Why Use a Hammock Instead of a Tent
When camping or bugging out, the weight of your equipment is a major consideration. You cannot use what you cannot carry. The gear required for shelter and sleeping often take up the most room in a vehicle or backpack. As a compact versatile sleeping solution, a hammock provides some real advantages while enabling you to sleep almost anywhere.
Multi-purpose, Space Saver
The hammock also eliminates the need for bulky sleeping bags, pads and tents along with the accoutrement required to erect the shelter like poles and stakes. This leaves more room for essentials like food, water and first aid supplies. Hammocks are usually stored in a drawstring pouch that can also be used to store a flashlight or a multi-purpose tool. Although it appears large, the hammock is like most modern tents. It is easily folded and repacked.
Better Sleeping
While tents are commonly used for outdoor sleeping, some find lying on the hard ground unappealing. A good option is a camping hammock, as it provides a sturdy elevated place to sleep. Rocking back and forth suspended above the ground in the supportive fabric eliminates the stiff backs and sore hips that often occur after sleeping on the hard ground. You can enjoy sleeping in the fresh air and wake feeling relaxed and rejuvenated. The hammock allows you to see the stars, stand up and walk around if you like without the hassle of unzipping tent flaps or crawling out of a sleeping bag or an enclosed shelter. Sleeping above the ground also keeps you above snakes and other animals that typically wander into campsites.
More Flexibility with Camp Sites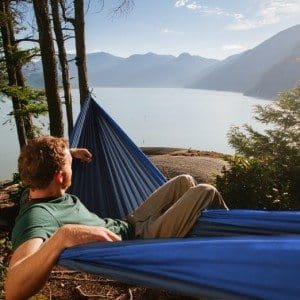 In addition to comfort, hammocks mean that you do not have to spend time searching for an ideal level campsite. Rocky, wet or sloping terrain makes pitching a tent and sleeping on the ground a challenging ordeal. You do not have to make special preparations to the site because the hammock is suspended between two trees roughly 10 feet apart above the surface of the ground. A hammock provides the same comfort every night. Because the ground no longer matters, the hammock is also ideal when stopping for a quick rest or water break. When traveling with kids, it gives them a break after a long hike while you set up the rest of the campsite. Hammocks can double as an emergency blanket or litter as well as a way for hauling gear short distances because you can wrap several items in the hammock if necessary.
Durable, Lightweight and Versatile
Hammocks are generally made from lightweight parachute material that is as strong as it is thin. Rip-stop stitching resists tears and helps prevent any holes that do occur from becoming larger. This is an important feature in a survival scenario. The material also dries quickly. Hammocks are available in single and double sizes. A double provides extra fabric to secure an individual inside the hammock. Sit sideways and the hammock can also be used as a camp chair or outdoor swing for those camping with small children.
The additional fabric can also be used to create a shelter. When equipped with bug netting and a tarp to keep out the wind, rain and pests, the hammock may eliminate the need to carry a tent depending upon local weather conditions. The tarp can also be used to create the same privacy that you enjoy with a tent. A Mylar emergency blanket can be added as an effective way to stay warmer in the hammock during colder temperatures. In a tent, you can lose airflow. The air circulation around the breathable material of the hammock is an effective way to cool down when the temperatures start to climb. Depending upon the weather conditions and other environmental factors, you can bring the accessories that you need and leave the rest at home lightening your load. You can also store them in the bottom of your backpack just in case they are required.
Wrapping Up
While the great outdoors provides a wonderful backdrop for fun and recreation, it may also be the best place to be in a survival situation. In both scenarios, the Neolite Double Camping Hammock is a handy versatile piece of equipment that is easy to carry, store and set up. It can be a lightweight alternative to the traditional methods for shelter and sleeping when camping or engaging in wilderness survival. The strong lightweight hammock can support two people or serve as a mini shelter for a single individual for a full night's sleep. It is a great way to take an extended break. With the addition of a tarp, bug netting and a blanket, it may effectively replace the requirement to carry a tent, which makes tearing down your campsite easier and quicker. The Neolite Double Camping Hammock is ideal for camping, traveling or relaxing in the backyard. The extremely compact hammock can be used indoors as well as outdoors.