Car emergency kits are among the things that many people do not think much of until it is already too late, and they end up wishing that they hadn't left their house without one. The key to this is being ready and here at Ready Tribe we want to inspire you to be ready for any situation.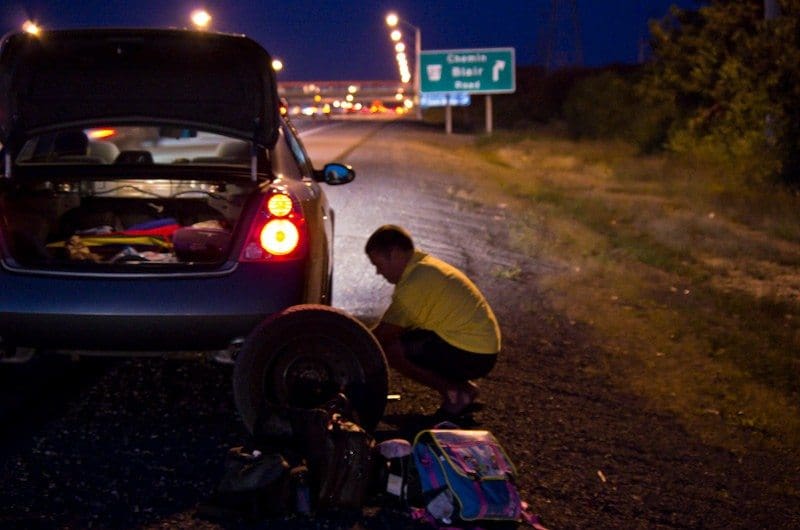 If we drive a new car, with a full warranty, or we pay for premium breakdown cover, we can often become lulled into a false sense of security when it comes to our car breaking down. Unfortunately, vehicle breakdowns can happen anywhere and at any time. There will be times when you have to stop in a remote area that is not very well lit and has poor cell phone reception. An emergency car kit can help in easing the pain and reducing the hassle of this kind of breakdown situation.
Your car might seem to be in good shape right now, but there is no guarantee that problems won't arise in the future. You just don't know when something can happen to your vehicle even if you maintain it properly and carry out all necessary checks before use.
While such incidents can occur right on your driveway, there are many instances when you have to deal with auto problems when you are several miles away from your home. Not only do you need the right equipment for the task, you need to make sure you are physically able to carry out the task. If you are traveling where the weather is bad or the area is remote then it is imperative that you carry a car emergency kit even if you are covered for roadside assistance. These kits are specifically designed so that you can survive until help finally arrives.
There are several prepackaged kits that you can find on the market today that contain everything that you will need. However, you will be able to save some money if you choose to assemble your own car kit. Even after purchasing a prepackaged one, you may choose to add additional items that are more specific to your needs, depending on where you are traveling.
Visit Amazon.com to buy one of these premade kits now.
Here are some of the must-have items that you should include in your auto emergency kit:
• Cell phone charger– Most people will carry a cell but taking the time to make sure it is fully charged before setting off is sensible. Carrying a car charger is a must!
• First aid kit – It must include band aids, gauze pads, adhesive pads, antiseptic, aspirin and any other specifics that you or any member of your family needs.
This video goes into a bit more detail about items needed in a car first aid kit:
• Reflective warning triangles – Although most prepackaged kits come with a single warning triangle, experts suggest that you should have three placed at a distance of 50 feet for warning any oncoming traffic.
• Spare Tire, Jack And Wheel Brace - If you get a flat or a blowout you need the right equipment to get it changed.
• Tire gauge – You should use a tire gauge to regularly check the air pressure on ALL your tires, including your spare. Making sure your spare is usable is often ignored until it is needed. Don't be a victim of this!
• Windscreen washer fluid - Always carry a bottle of washer fluid in case you run out and you can't see through your windshield.
• Battery Jumper cables – These must be a minimum of 10 feet long and coated with a minimum of 8 gauge rubber.
• Foam tire sealant – This is a quick and inexpensive way to repair a flat tire with no need to change the tire. However, always carry a spare as foam sealant will not work if you have suffered a blowout.
• Gloves - Protect your hands when making any repairs. Look after yourself!
• Waterproof flashlights and extra batteries - Trying to change a tire in the pitch black is extremely difficult. Carry extra batteries at all times.
• Duct tape – This is the universal solution for all fixes 🙂 . Never leave home without it!
• Drinking water - hydration is a killer! Keep a stock of drinking water at hand.
• Tow rope or tow strap – Make sure it is strong enough to be able to tow your vehicle.
• Nonperishable snacks – Stave off hunger for you and your passengers.
• Rain poncho – A cheap plastic poncho is better than nothing if you have to make repairs in the pouring rain.
• Warm blanket - Helps to stay warm in the vehicle overnight.
• Windshield ice scraper - When temperatures plummet, you want to be able to make sure you can see through the windshield.
Visit Amazon now and make sure you have these items in your car emergency kits for a safe and hassle-free road trip.
Can you think of any additional items that we have forgotten? Let us know in the comments below.