Assembled from a center riser and two limbs, the versatile takedown bow is easily transportable and affordable. The bow can be packed and stored in a smaller area than a regular full-size recursive bow. Changing the limbs enables archers to alter the characteristics of the weapon. The three separate pieces typically weigh more than a one-piece bow, which provides additional stability. In addition to target practice, arrow tips can be changed based on whether the bow is being used for hunting small or large game. With proper care, takedown bows and arrows can provide years of reliable service. A highly regarded model is the Martin Saber 40-pound Camouflage Takedown Bow.
Overview
Designed for hunting and target practice, the Martin Saber Takedown Bow features high-quality wood and fiberglass limbs, an aluminum riser with a Thermal V protective dampening grip and two integrated Vibration Vortex V.E.M.'s to reduce vibration. The bow has a smooth draw and is accurate in most weather conditions. The Martin Saber has a bow length of 64 inches and a 40-pound draw. The upper and lower limbs are attached with two screws for quick and easy assembly and disassembly. The process takes just a few minutes. The brace height ranges between 6.75 and 7.5 inches. The bow weighs approximately 3.5 pounds. When disassembled, the Saber easily fits in a variety of bow cases.
Riser, Limbs and Vibration Reduction
Martin Archery uses machined aluminum to make their risers rather than the traditional wood construction method, which makes the riser more durable and lightweight. The riser is also pre-drilled to accept a variety of accessories, such as an arrow quiver, stabilizer or recurve bow sight. The Thermal V protective dampening grip is ergonomic and sweat-resistant. Suitable for small and large hands, the padded grip should please archers of all skill levels. The arrow rest is made from rubber. With the shelf cut past center, the bow is able to accept a variety of arrow types. Due to the high-quality lamination techniques used by Martin Archery, the limbs do not bend or experience laminate separation over time or with heavy use. In addition to reducing vibration by dissipating residual energy from the limbs, the Vibration Vortex V.E.M.'s make the Saber quiet to shoot with minimal hand shock.
Performance and Accuracy
Martin Archery is renowned for producing some of the most reasonably priced and accurate bows on the market. The Saber Takedown Recurve Bow is no exception. It is the perfect hunting bow for advanced and intermediate archers. Novice archers will appreciate the comfort and accuracy as they learn to handle a bow. Comfortable to hold, the Saber has a smooth draw even in adverse weather conditions. There is no noticeable grip torque when shooting, which produces a stable firing platform. The bow's low vibration improves the flight of the arrow. If waxed regularly, the string is designed to fire approximately 10,000 arrows before the strands start to break. The limb tips are reinforced so that they can accept any fast flight Flemish-style strings on the market. Remember to consider the bow's extra length when selecting a tree stand or other shooting position.
Additional Arrows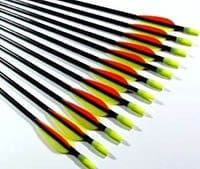 When purchasing a Martin Saber 40-pound Camouflage Takedown Bow, arrows are not included. You will have to purchase them separately. A set of 12 Shiny Black® 30-inch Fiberglass Target Practice Arrows is a fine complement to the Saber Takedown Bow. The high-quality arrows have colored fletching and nocks as well as glued-on nickel-plated stainless steel rounded bullet tips. Ready to shoot, these target practice arrows are extraordinarily resilient and good for draw weights up to 55 pounds. The arrows are suitable for all hay and synthetic targets.
Summary
Boasting excellent vibration-dampening technology, a comfortable grip and accuracy, the Martin Saber Takedown Bow with a 40-pound draw is a great investment. Made from top-quality materials, the durable and affordable bow is an ideal choice for archers of varying abilities. The durable riser and limbs mean that there is no need for constant maintenance or need to fix broken parts. The bow is easy to tune and has a powerful launch. Since the Saber is a takedown bow, you can swap limbs out for heavier ones in the future if you need more draw weight.