The Ultimate Camping Checklist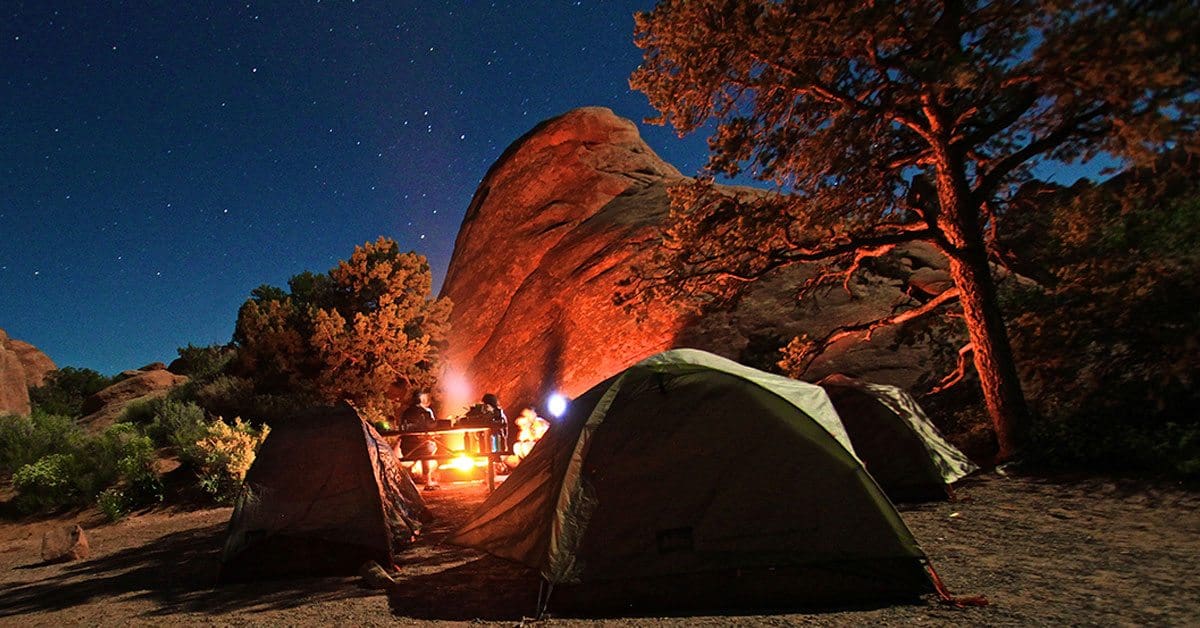 All the Things You Need to Survive In the Wilderness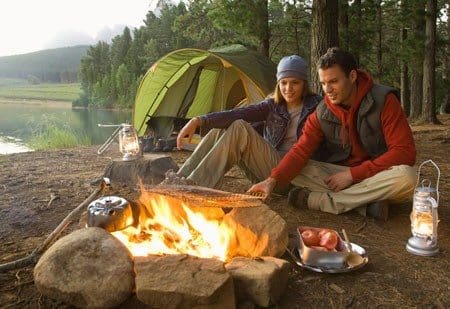 I love me some campin'! And I'm sure you do too. But apparently our short-term memory can only hold onto 7 things before breaking down in the "did you remember to pack…" area.
That's why we've got you covered at Ready Tribe with the ultimate camping checklist for surviving in the outdoors. Now you might not need everything we talk about in this list. But it's a comprehensive checklist for any situation.
So don't think you'll need to pack absolutely everything on this list for each camping trip. But it's a good idea to go through it thinking about what your plans are and packing accordingly. Don't need pet food this trip because the dog's with the neighbors? No problem.
It's easy to personalize and adjust this list according to your needs.
We've compiled this list thinking about every possible thing you might need in a variety of different situations. The wilderness is no joke sometimes, so you want to be prepared for anything.
But hey – we're not perfect. We might've missed a thing or two. And that's why we want this to be a living list. If you see something we've missed here, please chime in below in the comments section.
Let us know what you think we missed, and why it's important. Let's make this the best camping checklist on the internet!
By the way, you can download this checklist complete with check-boxes to keep your next camping trip organized! Just share this article and you'll be able to download a printable PDF of this checklist below.
Camping Checklist PDF Download
[sociallocker id="1270"] (PDF Download) [/sociallocker]
And without wasting any more time, here is the Ready Tribe Ultimate Camping Checklist:
The "Live or Die" Essential Survival List
This stuff is the "must-haves" of the entire list. These are things you cannot (and do not) want to be caught without when you're out camping. Make sure you take everything in this list so you're prepared for whatever situation mother nature throws at you.
A tent w/ tent-poles, stakes, guylines and tent footprint
Tent-pole repair sleeves
Sleeping bags and sleeping pads
Pillows, thick sheets/blankets
A multi-tool like The Leatherman
A mallet or small hammer
An axe
Small shovel
A knife (pocket-size or large)
Duct Tape
Flashlights (yes.. multiple)
Lanterns w/ extra fuel (just in case)
Batteries (lots and lots, different types)
Solar power charger
Water filtration/purification accessories (can be as simple as a Brita filter)
Matches, lighters and lighter fluid
Extra bags (plastic and reusable)
Compass
Maps
Rubbing alcohol
Cotton swabs
Hand sanitizer and antiseptic wipes/cream
Full first aid kit
Medications you may need
Binoculars
Two-way radio or walkie-talkies
Rope and string
Canvas or plastic tarp
Homemade or store-bought fire-starting tinder or kindling
Insect Repellent
Small cooking pot
Thermos
Star chart
Here are more "must-have" camping essentials kits that won't break the bank. 
Essential Clothing
You never know what kind of weather you're going to have when you're out in the wild. It's important to be prepared for anything. Some of this stuff can be left behind if you're going camping during certain seasons but make sure you've got everything you need for everyone you're with.
Moisture-wicking t-shirts and underwear
Long sleeve shirts
Quick dry pants and shorts
Insulated pants and jackets/vests
Thick and thin socks (synthetic or wool)
Fleece sweaters/shirts/pants
Long underwear
Swim gear
Waterproof and/or windproof jackets/pants
Sleepwear
Hats/caps
Bandanas
Gloves + Mitts
Hiking Boots
Walking/Running shoes
Flip-flops
Thermal socks, gloves, leggings, shirts
Down jacket (for cold climates)
Toque + scarf
Extra layers!
Don't get caught without the proper outerwear.  Check out these performance clothing items & save up to 30%
The Adventurer's Essentials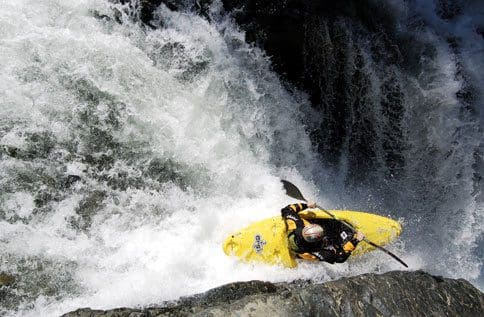 Are you the adventurous type? You'll definitely want to pack this stuff so you can experience the wilderness like it was meant to be experienced – wild!
Trekking/hiking poles
Bikes + bike trailers
Inflatable boat + paddles or a canoe/kayak
Inflatable life jackets
ATV or dirt bike
Climbing gear
Foodstuffs + Other Consumables
Sure, you could probably find a way to live off of nature, and it's a great skill to have. But let's face it, sometimes you just want some pancakes! Here are some essential foods and consumables you might need during your camping trip.
Spatula + other cooking utensils
Frying pan
Cutting board
Foil paper
Plates, bowls, mugs/cups, cutlery
Cooking oil/spray, butter/margarine
Cereals, granola, breakfast bars, oatmeal
Pancake mix + syrup
Energy foods (protein bars, trail mix, etc.)
Powder or fresh milk
Meat (fresh or jerky)
Eggs (freeze-dried or fresh)
Fruits and Vegetables
Cheese
Bread + crackers
Soup Mixes
Canned foods
Chips and other snacks
Tea/Coffee + Electric or stove-top kettle
Beer, wine and other liquor
Cocoa / Hot Chocolate
Marshmallows
Hot Dogs
Salt, pepper and other herbs for seasoning
Dish scrubber
Soap + Shampoo
Toilet Paper + Paper Towels
Wet wipes
Toothbrush + toothpaste
Floss and mouth wash
Travel Deodorant
Pet food (if you have pets)
The "Nice to Have" Stuff
This stuff is not exactly essential, but it'd be great to have while you're out in the middle of nature. Some of the stuff will require a power source of some sort, others not so much. It won't kill you to forget this stuff, but it might make things a lot more inconvenient.
Stand-alone GPS device / Sat-Nav
Folding chairs/table
Air mattress + repair kit and air pump
Can opener
Charcoal and firewood
Food storage containers + Zip Lock bags
Battery powered cooler
Funnel
Bath Towels
Nail Clippers
Tweezers
Collapsible water containers
Sunscreen
Mirror
Lip Balm
Toiletry kit
Sunglasses
Smartphone w/ camera
Additional memory cards (if applicable)
Alarm Clock
Umbrella
Wind screen
Mosquito netting
Large picnic sheets (to sit on)
Large plastic storage tub
Scissors
Grab these items before heading out for your next camping adventure.  Click here to save 30% on camping gear. 
Entertainment Essentials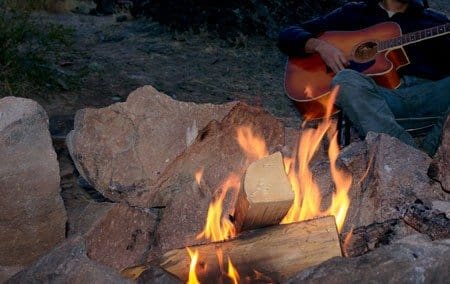 Camping is great, but sometimes things get too quiet and dare I say… boring. Packing up some of this stuff will make sure there's always something to do when you're away from home.
Radio/music players
Headphones + portable speakers
Books to read
Playing cards
Notepads w/ pens or pencils
Frisbee, football, soccer ball
Board games
Guitar
Telescope
Got Kids?
If you've got small children there are a few other things you'll want to make sure you have. This checklist is for the new(ish) parents who want to take their children camping and not struggle with it.
Child carrier or baby backpack
Folding stroller
Portable crib
Portable high chair, baby chair and potty
Personal Flotation Devices
Water Wings
Chalk, crayons and markers + sketch pads
Baby wipes
Baby food
That's essentially it. All the stuff you need to worry about when you're camping. Remember you can always download this checklist, print it out and keep it with you for you camping trips. It'll make it much easier to be sure you've got everything you need.
All you have to do is tweet this article or share it on Facebook to download the printable PDF of the Ready Tribe Ultimate Camping Checklist.
Did we forget anything? Let us know your camping essentials we might have missed in the comments below!