The Best Sump Pumps Available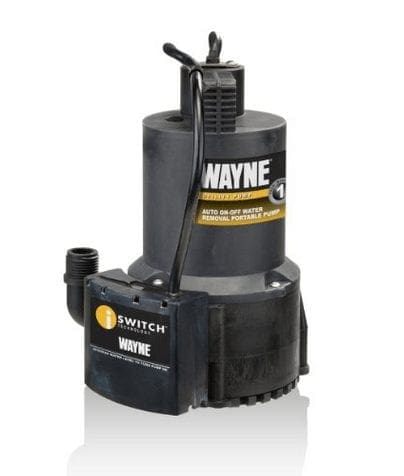 We know it can be a real pain in the neck when looking through sump pump reviews and trying to find out which one is the right one for your sump pit or other use. There are certainly a large number of highly-rated sump pumps available on the market, so whittling the choice down is pretty time consuming. Looking to remedy this situation and make the decision a bit easier on you, some of the Ready Tribe staff got together and worked an algorithm that combines the best in affordability, personal experience, customer satisfaction and sump pump benefits.
Though we've never really had any control over the weather, the likes of a torrential downpour, flooding, hurricanes and storms hitting out of season lately have made having a good sump pump on your side more important than ever before.
Sump Pump Reviews
When looking to discover what is the best sump pump, keep in mind that even the highest rated of these meet specific needs. That being said, the following sump pump reviews should help make picking one for your sump pit somewhat easier.
WAYNE WSS30V Pre-Assembled 120/12V 1/2 HP Primary and Battery Backup Combination Sump Pump System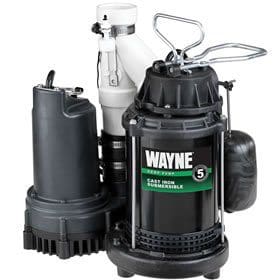 More consistently than any other praise that this WAYNE WSS30V Pre-Assembled 120/12V 1/2 HP Sump Pump gets, everyone remarks at just how quiet its operation is. This makes it a particularly good choice for those of you who have a sump pit located below a room or rooms in your home. Likewise, it is notably easy to install, and any additional parts shouldn't run you a few more than a $20 or so.
With a half horsepower running the WSS30V, this cast iron sump pump can push 4,200 gallons per hour with the primary pump. It also has a five-year warranty. You likely won't need ever to act on the warranty, though, as the primary pump has a top suction design that both filters out debris and helps keep clogs at bay.
It should be noted that you will need to pick up a battery for the attached backup slot, which should be relatively easy for you to find.
>>> Click Here To See Specifications, Customer Reviews & Ratings <<<
Features Include
120-volt primary pump
4,200 gallons per hour at 0.
3,300 gallons per hour 12-volt back-up pump
Design filters debris and keeps clogs to a minimum
Indicator lights inform of current pump operation
Superior Pump 91250 1/4 HP Thermoplastic Submersible Utility Pump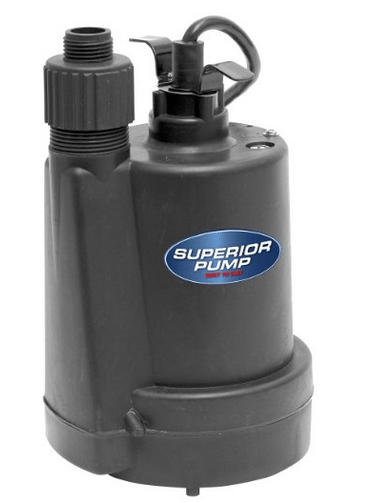 The Superior Pump 91250 1/4 HP Thermoplastic Submersible Utility Pump packs quite a punch for its power, and it offers some excellent usefulness. The fact that you can find it under $50 is itself quite a feat, but the fact that it can be put in so many situations is where the Superior Pump shines.
It can push 1,800 gallons per hour, which is sufficient for most tasks. While it might not be a perfect fit for a pit as a full-time pump, it is ideal for one-time jobs like emptying a pool or getting rid of any sitting water around your property. This makes it an excellent choice for moving water as a chore rather than for something that'll be a permanent part of the home unless you happen to live in a relative rain- or flood-free climate.
Also, if purchasing the Superior Pump 91250, you might need an adapter to fit your outlet hose or pipe.
>>> Click Here To See Specifications, Customer Reviews & Ratings <<<
Features Include
1/4 Horsepower
1,800 GPH
Bottom suction filters debris - removes water to 1/8 inch
Fully submersible with 10-foot cord
1-1/4 inch discharge, also includes 3/4 inch hose adapter
Watts 500800 Hot Water Recirculating System with Built-In Timer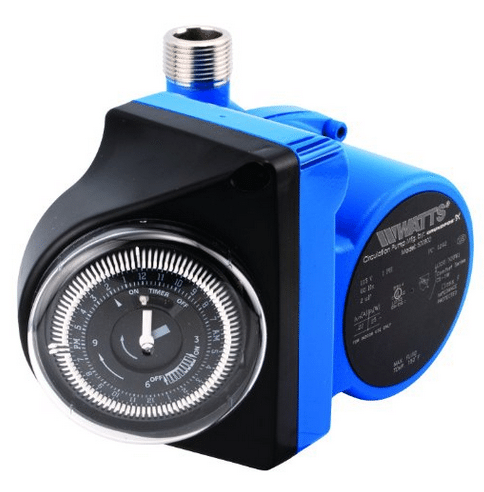 I know, it's not a sump pump, but while we're (pretty much) on the topic of pumps and moving water, the Watts 500800 Hot Water Recirculating System is a great piece to add to your home's hot water heater. It works to keep your hot water supply in a constant state of operation, which, in turn, means the hot water in your home will always be ready as soon as you put the faucet to hot.
And since the pump is only working with water already in your system, it minimizes water waste by up to a staggering 15,000 gallons per year. Additionally, it operates at only 25 watts, meaning it's using even less electricity than most light bulbs.
>>> Click Here To See Specifications, Customer Reviews & Ratings <<<
Features Include
No maintenance required
Quick installation
Conserve thousands of gallons of water and save money
Comes with pump and timer, adapters, mounting screws, 12 inch supply lines and sensor valve
Zoeller M53 Mighty-mate Submersible Sump Pump, 1/3 Hp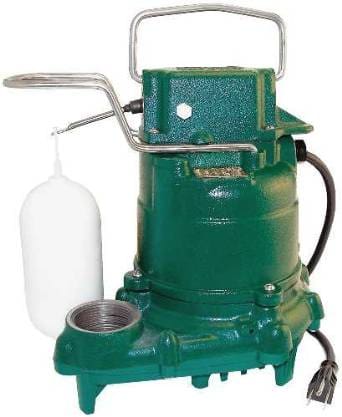 At about $135, the Zoeller M53 Mighty-mate Sump Pump has a midrange cost, but it can compete with much more expensive models. It is reported to pump up to 43 gallons per minute, which is particularly surprising considering it is only a 1/3 horsepower model.
Even though it performs admirably, the Zoeller M53 Sump Pump's best trait is it is nearly indestructible. Seriously - the thing could probably withstand a bomb blast. This is thanks to so many of its components being made from cast iron. Even then, it only weighs 21 pounds.
The only real downside is that you will likely need to conduct periodic maintenance. Though, with upkeep, it will probably be the last sump pump you'll need.
>>> Click Here To See Specifications, Customer Reviews & Ratings <<<
Features Include
1/3 horsepower
1-1/2 inch discharge - can pass 1/2 inch solids
Designed to not clog
Cast-iron pump housing, motor, and case
Automatic operation via float switch
Zoeller 98-0001 115-Volt 1/2 Horse Power Model M98 Flow-Mate Automatic Cast Iron Single Phase Submersible Sump/Effluent Pump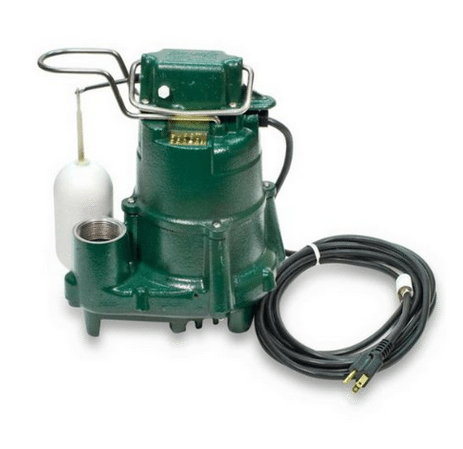 Like the Zoeller M53 above, the Zoeller M98 115V 1/2 Horsepower Submersible Sump Pump is a cast-iron beast that can potentially last you forever. And, though it can push 72 gallons per minute, it isn't substantially more expensive than the M53 when taking into consideration how much it'd cost you to deal with water damage in your home.
In even the most intense flooding or extreme weather situations, the Zoeller M98 will be able to keep up with most jobs. Due to its design, though, you will need a sump pit as it will only pull water down to about 4 inches.
Because of that, it is best as a full-time sump pump that doesn't need to be often moved. If you're looking just to place a unit on the ground, one of the other sump pumps in this list is likely a better option. Like the other Zoeller sump pump above, a little maintenance will go a long way with the Zoeller M98.
>>> Click Here To See Specifications, Customer Reviews & Ratings <<<
Features Include
72 gallons per minute - 5-foot head
23-foot shut-off head
15-foot neoprene cord
Will pass 1/2 inch solids
Cast-iron parts nearly indestructible
Liberty Pumps 257 1/3-Horse Power 1-1/2-Inch Discharge 250-Series Cast Iron Automatic Submersible Sump/Effluent Pump with VMF Switch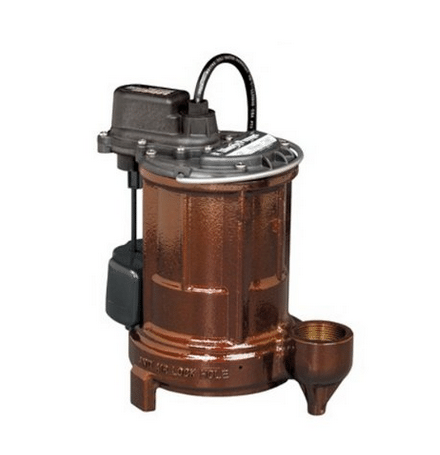 With a price point on par with the Zoeller M58 (which is about $130, give or take), the Liberty Pumps 257 1/3 Horsepower Automatic Submersible Sump Pump is a mid-price unit that can take on most of your pumping challenges. The unit is particularly quiet and, in most cases, you won't even know when it is operating.
It offers up to 50 gallons per minute of pumping power and has a 21-foot discharge head. Considering the Liberty Pumps 257 sump pump is only 1/3 horsepower; this pumping rate is rather impressive in what it's able to accomplish regarding your sump pit or flooded area. The Liberty Pumps 257 also uses a float and magnetic switch, which allows worry free operation and helps to save on electricity costs.
This sump pump would make a great addition to your basement's sump pit as evidenced by the hundreds of five-star reviews from people who've pushed it through the ringer.
>>> Click Here To See Specifications, Customer Reviews & Ratings <<<
Features Include
Pumps 50 gallons per minute with 21-foot discharge head
Can pump 1/2 inch solid debris
Energy-efficient motor saves electricity
Magnetic VMF switch for smaller sump pumps
3-year warranty
Liberty Pumps SJ10 1-1/2-Inch Discharge SumpJet Water Powered Back-Up Pump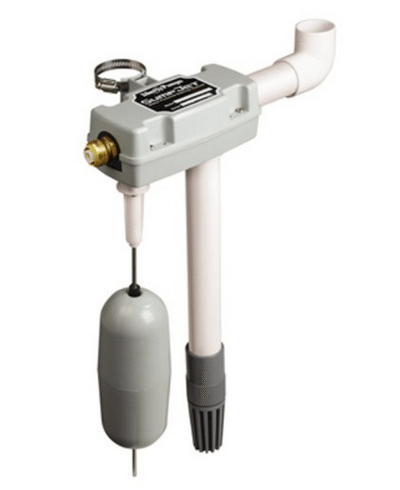 Where most everything else on this list is perfect for normal operation of a sump pump, a power outage can quickly leave them lacking if there isn't an attached backup battery system as in the WAYNE WSS30V. But even batteries will eventually run out, and it times like that where the Liberty Pumps SJ10 Water Powered Back-Up Pump earn a place in your sump pit.
This Liberty Pumps backup pump uses a 60 PSI water source to pump just under 20 gallons per minute, making it capable of most emergency situations. While a full-time sump pump will obviously do a better job in the heaviest of flooding conditions, the SJ10 should work more than well enough in emergencies and power outages.
Likewise, since it's water powered, the SJ10 from Liberty Pumps means you'll have backup pumping without paying a cent more for electricity though some users have reported a negligible increase in water bills after power outages.
>>> Click Here To See Specifications, Customer Reviews & Ratings <<<
Features Include
Water-powered and pumps 19.8 gallons per minute with 4-foot head
Inlet can be between 20 and 100 PSI
3/4 inch NPT inlet will take pex, copper or CTS CPVC 3/4 inch
Removable foot valve
WAYNE CDU980E 3/4 HP Submersible Cast Iron and Stainless Steel Sump Pump With Integrated Vertical Float Switch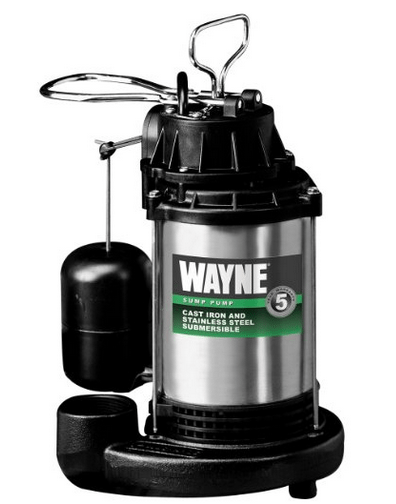 The WAYNE CDU980E 3/4 Horsepower Submersible Sump Pump is a hardworking sump pump designed to keep your pit or basement water-free for years. It has a max flow rate of 70 gallons per minute, which is an astonishing 4,600 gallons per hour.
As these units are assembled in the US, they are incredibly reliable. They offer a stainless steel motor housing, and the pump base is cast iron. The vertical float switch is also built to high standards, and they have been tested to a million cycles - you're not going to have to worry much with the WAYNE CDU980E.
Though the price comes in a bit higher than other pumps at about $145, this unit can easily keep up with and surpass some pumps available at twice the cost. The only downside here is that you may have to check it occasionally to ensure small debris doesn't jam the works - otherwise, the WAYNE CDU980E is highly recommended.
>>> Click Here To See Specifications, Customer Reviews & Ratings <<<
Features Include
American assembled with domestic and foreign parts
Top suction pump keeps air locks and debris lockups at a minimum
Built to last with stainless steel and cast iron
Highly durable float switch
3/4 horsepower - up to 4,600 gallons per hour (70 gallons per minute)
WAYNE EEAUP250 1/4 HP Automatic ON/OFF Electric Water Removal Pump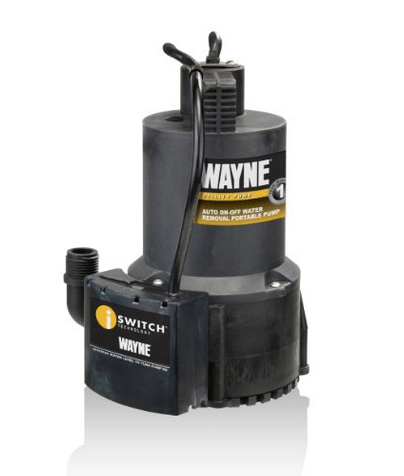 Although the WAYNE EEAUP250 isn't a sump pump, its usefulness in getting water out of space is pretty remarkable. Unlike most of the other pumps discussed here, the WAYNE EEAUP250 is designed to be easily moved and implemented wherever you might need it, making it perfect for those who don't have a traditional sump pit or will only occasionally need to have the unit running.
It will pump up to 3000 gallons per hour (50 gallons per minute) and has a 1/4 horsepower motor to accomplish this. The component that makes this WAYNE pump stand out is that it uses an electrical switch to determine when to run. Versus a float switch, this allows for the EEAUP250 to remove water to even lower levels than most sump pumps.
If you need a pump only to be occasionally used or if you don't have a sump pit at all, the WAYNE EEAUP250 is an excellent choice to keep backed up water from ruining your property.
>>> Click Here To See Specifications, Customer Reviews & Ratings <<<
Features Include
American assembled with domestic and foreign parts
Switch turns pump on and off when it senses water - pumps down to 3/8 inch
Can be left alone and is submersible
1/4 horsepower - can pump up to 3,000 gallons per hour