Make Sure You Bring These Camping Gadgets for the Ultimate Experience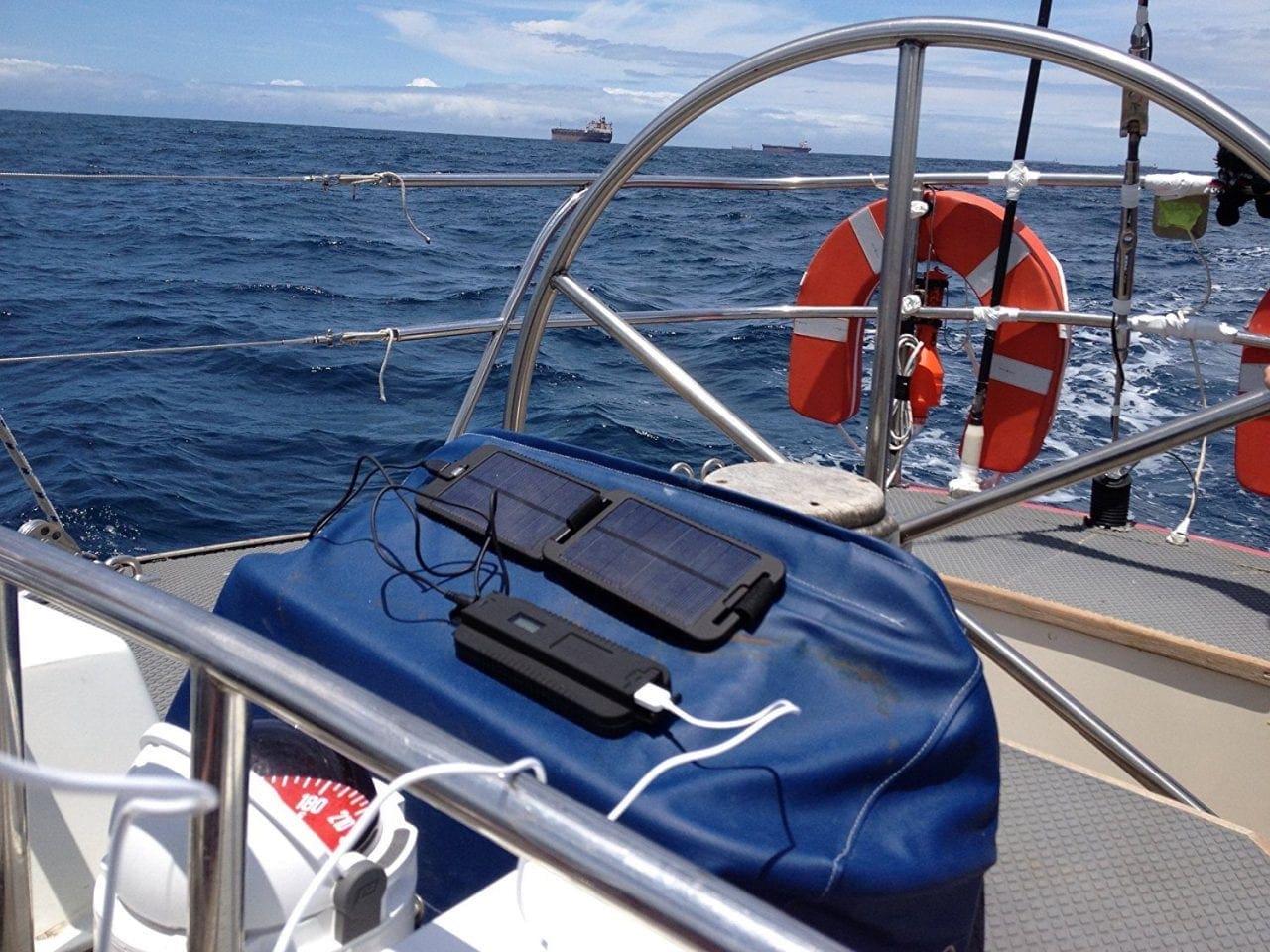 Finally, that big camping trip you've been eagerly waiting for is just around the corner. Of course you are well prepared for it. You're packed, and have double checked your list to make sure you haven't left anything behind.
Hold on though. Let's take a quick look at your list and see if you're truly prepared.
Sure, you've got your tent, your fishing poles, flashlight, cookware. Ideally you have your sleeping bag or lining if it's hot, and all the other standard stuff to have a great time. You've done this a million times before, you're covered.
But what if this time, something goes wrong.
Of course, camping is meant to be relaxing and fun. It could be with friends, cooking food around the fire, with your family, exploring lakes and valleys, or just yourself, connecting with nature. Usually everything is fine, everyone has a good time, and there is nothing to worry about. But, are you prepared if something goes wrong?
What if on this camping trip, this time, you face a potential attacker, a wild animal, or get completely lost. What if the weather turns from a perfectly sunny day to torrential rain? Are you prepared then?
How prepared are you?
If you're a natural prepper, you might already have thought of potentially extreme situations. If not, it might be a good time to start. By being aware of what might happen allows you to plan for potential risk in advance. This way you can either prevent negative experiences all together, or at least minimize the damage and get back to safety.
While we hope this never happens to you, things do go wrong every once in a while: intruders storming into your campsite, harsh weather, having to deal with a wild animal, and hundreds of other possibilities. But that shouldn't scare you from enjoying your camping experience. It just means you should think about adding a few more things to that checklist of yours. These gadgets will certainly come in handy and save the day if you are ever faced with a potentially risky situation.
And there's no rule that says you shouldn't use technology to put yourself at ease. After all, the technology exists for you to use, so why not take advantage of it and enhance your camping experience?
I've prepared this list of awesome gadgets that will make your camping experience swell. But before that, let's look at a short buying guide so that you get an idea of what's on the list and why it made the cut.
What To Consider When Choosing Your Camping Gadgets
Knowing exactly the kind of camping gadgets you will need will make your planning very easy and your camping fun. But if you choose the wrong gadgets, you might have a sucky experience. Keep the following variables in mind:
Your destination
The location of your campsite will play a major role in determining what you will need for your camping trip. At the very least, it will determine what you can use. For example, a solar-based gadget will not be so helpful if you are going somewhere where there's no sunshine.
The duration
If you are going into the wilderness for a month, it wouldn't make sense to pack the same gadgets as someone going out for a weekend. Most gadgets come in different sizes and have different capabilities and features. That means you can get a gadget that can sustain your comfort for a month or more, and another version of the same that is ideal for a few days only.
For example, some chargers can hold power for several weeks, but others can only last a few days. You can save money by considering smaller gadgets if your camping trip will be brief, but it is worth the investment to be properly prepared for any trip length.
Versatility
A gadget that can serve more than one function is always better than a single-purpose gadget. A multi-function gadget is more practical and will save you a lot of storage space. It's smart to consider devices you can also use in situations other than camping.
For instance, it makes perfect sense to buy a radio that has a phone charging system. When you are not entertaining yourself and charging other devices in the forest, you can use it to play music at home in your yard or garden.
Portability
The more portable a gadget is, the more suitable it is for camping. This is especially true if you will be walking long distances without your car. If your only choices are heavy, bulky gadgets, it doesn't make sense to pack them in your backpack. They will only slow you down and make you work harder. Let's be honest, even if you have them, you're probably not going to bring them along with you, right? What a waste.
Be sure to consider the weight and dimensions of each gadget relative to the space you have. That way, you each item you bring has a purpose, and you will be able to carry it around without breaking your back.
Durability
Long-lasting gadgets are worth the investment. Don't settle for items that can damage easily. . Sure, the initial investment in a lousy gadget will be smaller, but you may be forced to buy the same item every time you go camping.
On the other hand, a durable item will last for many years, which makes it more economical in the long term. And you'll have peace of mind knowing that when you need your gadget, it's going to work. Don't get strained in the middle of nowhere only to find out that your discount radio won't doesn't have signal or has already lost all its battery power.
Seven Must-Have Camping Gadgets
1.Etón SCORPION Digital radio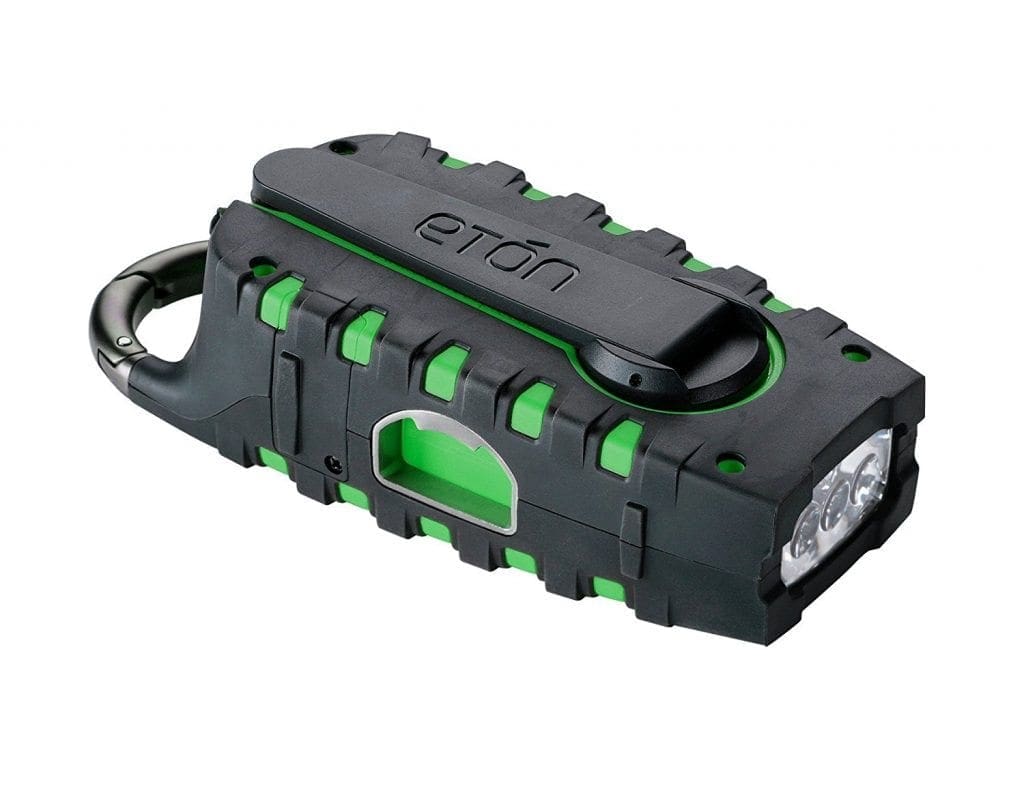 What is it?
The Etón SCORPION Digital radio is a multi-function radio that includes many cool features. It has a smartphone charger, LED flashlight, and weather forecaster.
Features
First of all, this awesome gadget is a radio. That's its primary function; you'll get some entertainment and news updates while you chill at your campsite. It has both AM and FM receivers. It can also charge smartphones. Bonus! If you ever find yourself stuck, you can always make a call, send a message (or email), or consult an app for help.
Another huge perk that comes with this gadget is that it can be used as an LED flashlight. It is bright enough to light up your tent or illuminate a significant area.
Another feature, up to date weather forecast. Its NOAA weather band provides critical weather updates and alerts that will definitely help you plan the day's activities, or giving you advance warning to get out of a storm's way. The manufacturer even added a carabiner to the Etón SCORPION . Easy to carry and a necessity to have.
This radio is also super easy to charge and holds its batteries for a long time. Its internal battery uses solar energy to recharge. But just in case you are located somewhere where there's little or no sunshine, you can use its crank charging option to bring it to life. Never get caught stranded, with this device, you'll be able to communicate your location, get information, and send for help if you ever need.
https://www.youtube.com/watch?v=W9Zrx48EU6k
Why do you need it?
If you have ever gone camping, you don't need to be reminded that there can be certain times that it gets a little boring. You know, when there's no tv, electricity, or signal for your phone. In these situations, take a page from the older generation and get your entertainment from listening to the radio.
In addition to providing a bit of entertainment, you need to charge your phones so you can communicate with the outside world if anything comes up. The LED flashlight is the perfect source of light. While it shouldn't be your primary light source, it can complement whatever other light sources you have, or you hand it to your children, in case they need a little extra light security in their tent. Finally, the NOAA feature is a priceless weather forecaster that will help you stay on top of any changing conditions. Every part and function of the Etón SCORPION was made with the camper in mind.
>> Price: Click here to see the best price <<
2. Powertraveller Power Monkey Extreme Solar Charger
What is it?
The Powertraveller Power Monkey is a portable charger that charges 5V and 12V devices. If you're catching a moment, trying to call for help, or need get a little power into a flashlight or gps, this is the device for you. Don't get caught powerless in the middle of nowhere.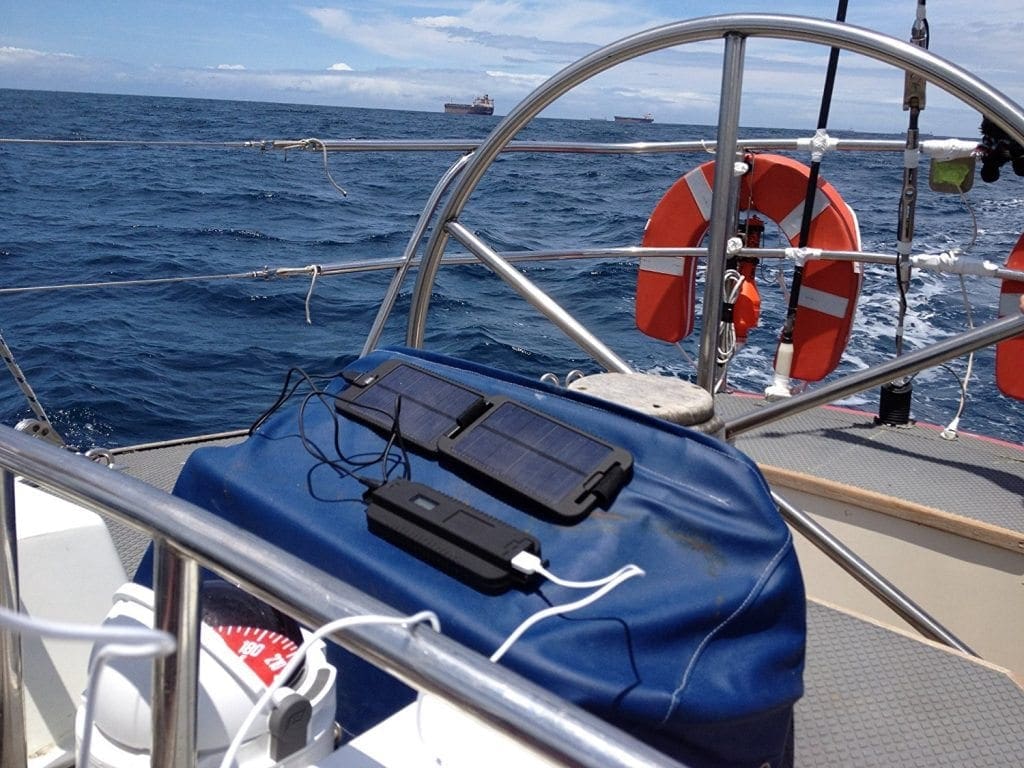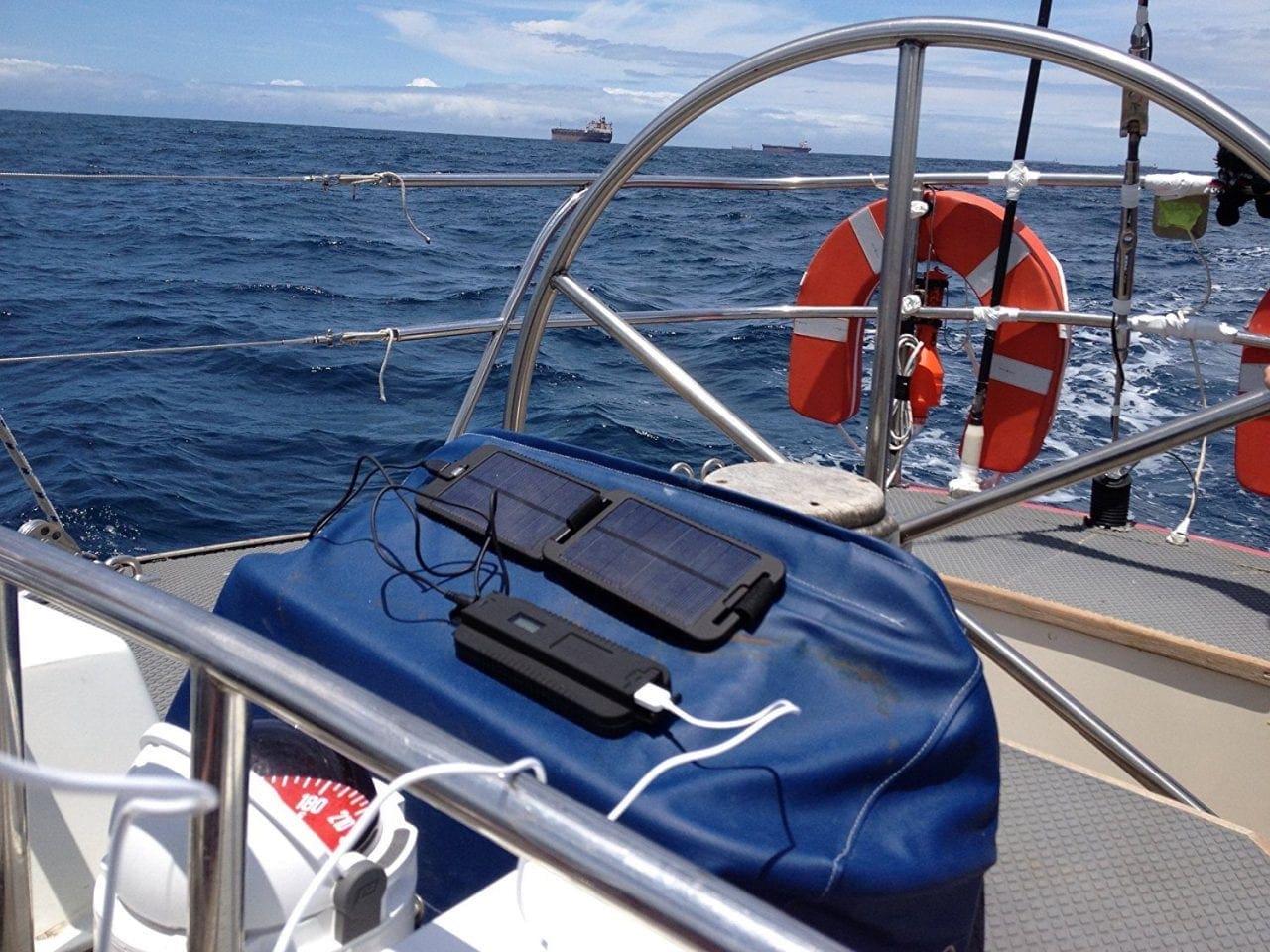 Features
The most important feature of this gadget is its ability to charge pretty much any device, from smartphones to tablets, SLR cameras, headlamps, and portable DVD players, among many others.
When fully charged, the Powertraveller Power Monkey can recharge a smartphone up to 6 times and other devices 2 times. The best way to use the Power Monkey is to recharge all your devices simultaneously and then recharge your portable charger.
Its massive 9000mAH lithium polymer internal battery uses a solar panel to recharge. One thing to keep in mind is that it will take 22 hours to recharge, so it's really important that you plan your charging needs based on that time frame. The good news is that you can use its solar panel to charge 5V devices directly.
At only 7 x 4 x 2.2 inches (folded), this gadget is a definite must-have for any camper, whether you are going away for a weekend or a whole month. In fact, its construction is best suited for camping. Apart from portability, it is waterproof for up to 30 minutes and comes with a Velcro strap that you can use to attach it to your tent or backpack.
The backing of the respected Power Monkey brand should give you some peace of mind when it comes to durability. The gadget actually features high-grade parts that are shock-resistant.
Why do you need it?
The answer is pretty simple – you need it because you need to charge all your devices. You need your lamps and flashlights powered to get light, you need your smartphones for communication, radios (or other media players) for news and entertainment, and of course you need your cameras to capture amazing moments. In short, the Powertraveller Power Monkey Extreme Solar Charger is the backbone of all your devices.
https://www.youtube.com/watch?v=VEXwG47laYk
>> Price: Click here to check the best price <<
3. High Sierra Classic 2 Series Wave 70 Hydration Pack
What is it?
The High Sierra Classic 2 Series Wave 70 Hydration Pack is a lightweight water carrier that also cools water, regardless of the how hot it is outside.
Features
This fabulous water carrier is made purely of polyester. That makes it lightweight but very sturdy. Despite weighing only one pound, it can carry up to 2 liters of water (or any other liquid, for that matter). It's made with the wearer's comfort in mind and is easy to take along with you all day, on a hike, or anywhere you might need it. Sturdy and secure, you can even run around without this hydration pack bouncing against your back.
Perhaps the number one reason to buy this handy water carrier is that it will keep your water cold, even when you're camping in a hot area. Great for yourself, your children, your four legged friend even. Beat the heat with a little cool water. Nothing feels better in sourcing hot weather.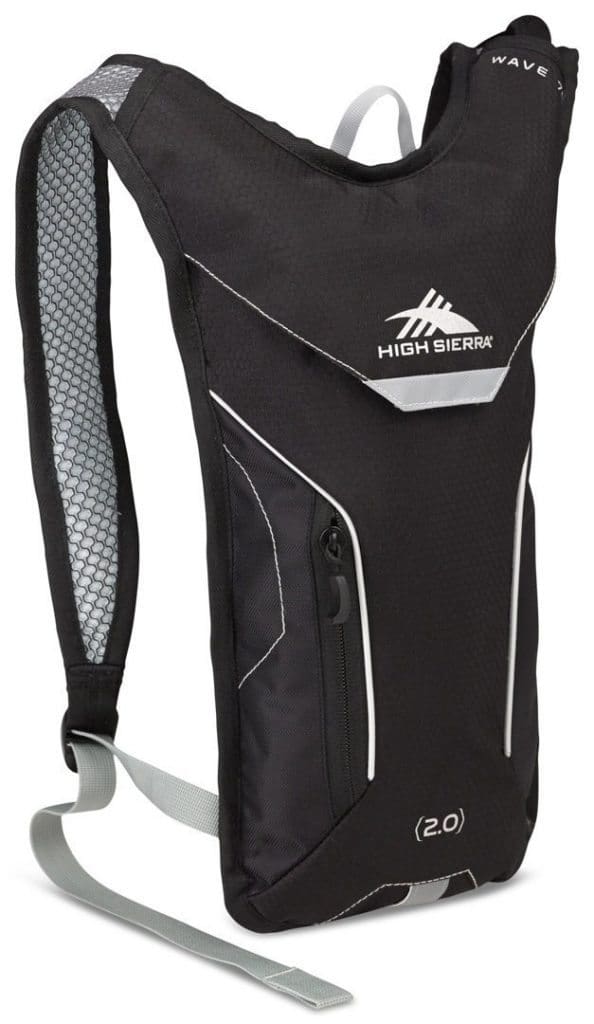 If you need more convincing, then maybe its amazing design will win you over. While the reservoir features a wider opening for easy refilling, its mouth piece is just small enough to dispense water smoothly. There is even a side pocket for you to store your smartphone or other device in.
Why do you need it?
It's suicidal not to have water with you, especially if you're going on excursions. The problem is most water carriers are not ideal for campers. If they aren't unnecessarily heavy and low in capacity, they are just straight up ridiculous in design.
The solution? High Sierra Classic 2 Series Wave 70 Hydration Pack! It will carry up to 2 liters of any liquid for you, all the while keeping it, and you, cool even if you're in the desert.
>> Price: Click here to get the best price <<
4.Sea to Summit Kitchen Sink
What is it?
The Sea to Summit Kitchen Sink is a portable sink – perfect for long camping trips. While it is not a replica of your home sink, but it's the closest thing to it. If you're thinking, why would you possibly need a kitchen sink for a camping trip, read on.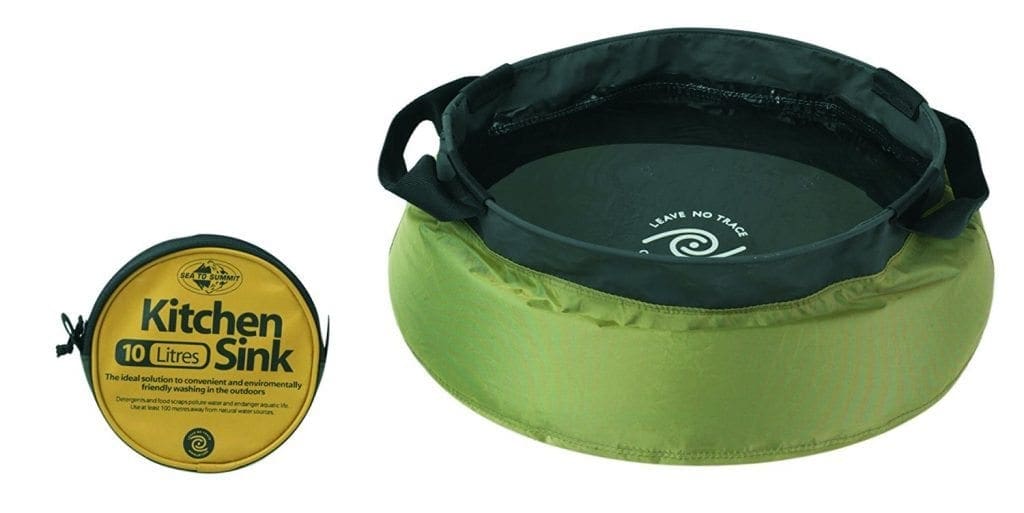 Features
If you are planning to go camping for more than one weekend, you do actually need, and will want, some type of sink. And there's no better option than the Sea to Summit Kitchen Sink. It comes in different sizes, 20 liters, 10 liters, and 5 liters, so you can pick the one that suits your needs. If you are going as a big group or for many days, the 20-liter size is ideal. Otherwise, you can make do with the 5 or 10-liter options.
This stunning sink is made of nylon and features stainless steel reinforcement that ensures it won't collapse or break when filled to the top. The taped seams mean that you can use both hot and cold water, while the side handles make it very easy to carry.
Its construction features a conical shape with a wider base than the top. This design prevents the sink from tipping and falling when full or in use. At 7 x 9 x 3 inches in dimensions and 8.8 ounces in weight (for the 20-liter), this sink is very compact and easy to carry. The manufacturer makes it even easier for you by including a carrying pouch in the package.
Why do you need it?
This sink will solve a number of essential camping issues by itself.
You can use it to prepare foods and utensils when cooking.
You can use it to clean utensils after meals.
It is perfect for water purification.
Use it to wash and hang dry your clothes.
Fill it up and keep water for cooking and bathing right by your side.
You can even use it as a dog plate when you get back home.
We need water to live, and for so many other things. Don't go back and forth to the river a million times, with a kitchen sink, you're prepared.
>> Price: Click here to get the best price <<

5.Sea to Summit Pocket Shower
What is it?
As its name suggests, this gadget from Sea to Summit is a portable pocket shower with a 10-liter capacity.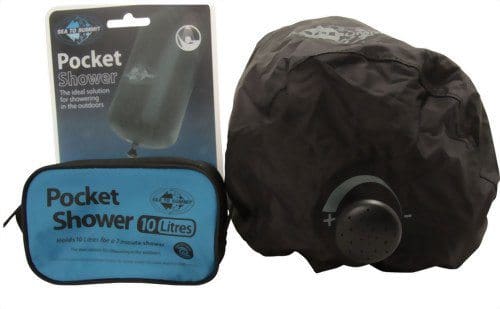 Features
No matter how big or small you are, this portable shower will meet your needs. The waterproof and heat-resistant fabric makes it perfect for camping. And you can fold and zip it down to a 3 x 6 pouch that weighs a mere 5 ounces.
The 10-liter capacity will allow you to take a 9-minute shower when the showerhead is fully open. Of course, if you use it sparingly, it will last much longer than that. Just like high-end home-based showerheads, this one disperses water evenly on your body thanks to its graduated apertures. Use it for yourself, or have your family take turns.
Apart from being a shower, this versatile offering is also a dry sack in which you can carry a sleeping bag or even clothes. Once you set up on your campsite, you can use it to carry water from a river or stream. It's arguably the most versatile portable shower on the market today.
Why do you need it?
Personal hygiene is a very important part of camping. You certainly don't want to stink up the place because your campsite doesn't have a reliable place where you can take a shower. Or maybe you enjoy truly camping in nature, without any shower facilities around at all. That's where the Sea to Summit Pocket Shower comes in handy.
It will solve your shower needs and give you peace of mind, particularly when you are going for long trips, and especially if your destination is a hot and humid place.
>> Price: Click here to get the best price <<

6.The BioLite KettleCharge 10 Watt Generator
What is it?
The BioLite KettleCharge is one of the most exciting gadgets on this list. It's a special type of generator that produces power using only hot water. You can use the power generated to charge pretty much all your camping gadgets.
Features
You're probably wondering how a power generator can use water to create energy. Well, the BioLite KettleCharge uses highly advanced thermoelectric technology to do so. Basically, you only need to fill it with boiling water and it will do the rest.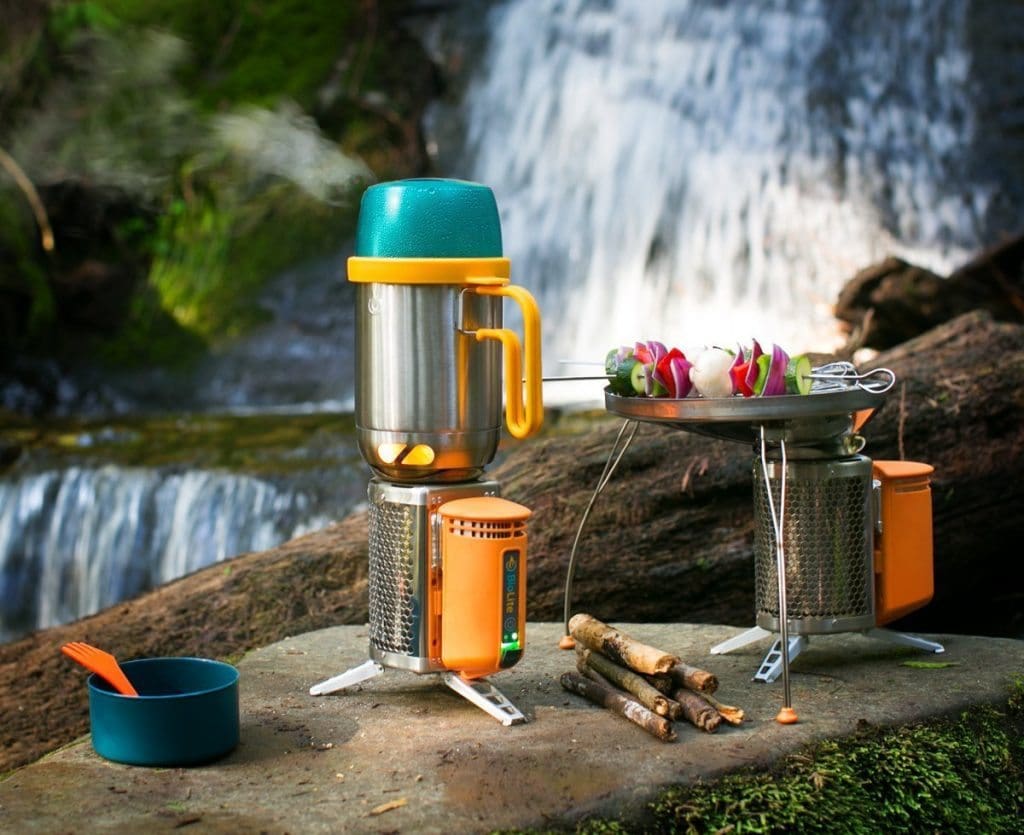 But that doesn't mean you shouldn't monitor it. There is a LED dashboard that allows you to check its charging and heating capacity to ensure that its performance is optimal. When it gets overheated, it will notify you with an alert. Boiling the water is a piece of cake considering you can use the gadget on various backpacking stoves and gas ranges. Or you can simply opt to pair it with the BioLite Camp Stove.
As you can see, it is not a solar powered device, and that means you can use it in any weather and at any time of the day or night. With 10W worth of energy, you will be able to charge any USB devices you have. With this magical gadget, you are sure to have fully-charged smartphones, lamps, flashlights, rechargeable radios, and more with no effort.
Apart from charging devices, you can use its 750ml kettle to boil water, to make food, disinfect a wound, purify water, the list goes on. And at only 7.3 x 7.3 x 2.9 inches in dimensions and 2 pounds in weight, it qualifies as a portable gadget to include in your camping gear.
Why do you need it?
Your camping destination won't always have sufficient sunlight for powering up your solar chargers. At times, you'll be forced to bear the lack of sunlight for days or weeks. But if you have this The BioLite KettleCharge, it won't matter. It even offers the added advantage of boiling water for coffee, cooking, or cleaning.
>> Price: Click here to get get best price <<
7.Carson HookUpz Universal Smart Phone Optics Digiscoping Adapter
What is it?
This gadget is a magnificent addition to your smartphone. It offers an opportunity to take great photos and videos using your phone's camera app easily. That makes it the ideal phone-to-telescope mount, perfect for capturing all your camping moments in style.
Features
Contrary to what you might think (just in case you've never had an experience with it), the HookUpz adapter is not a complicated gadget at all. In fact, all you need to do is link it with your phone and you'll be good to go.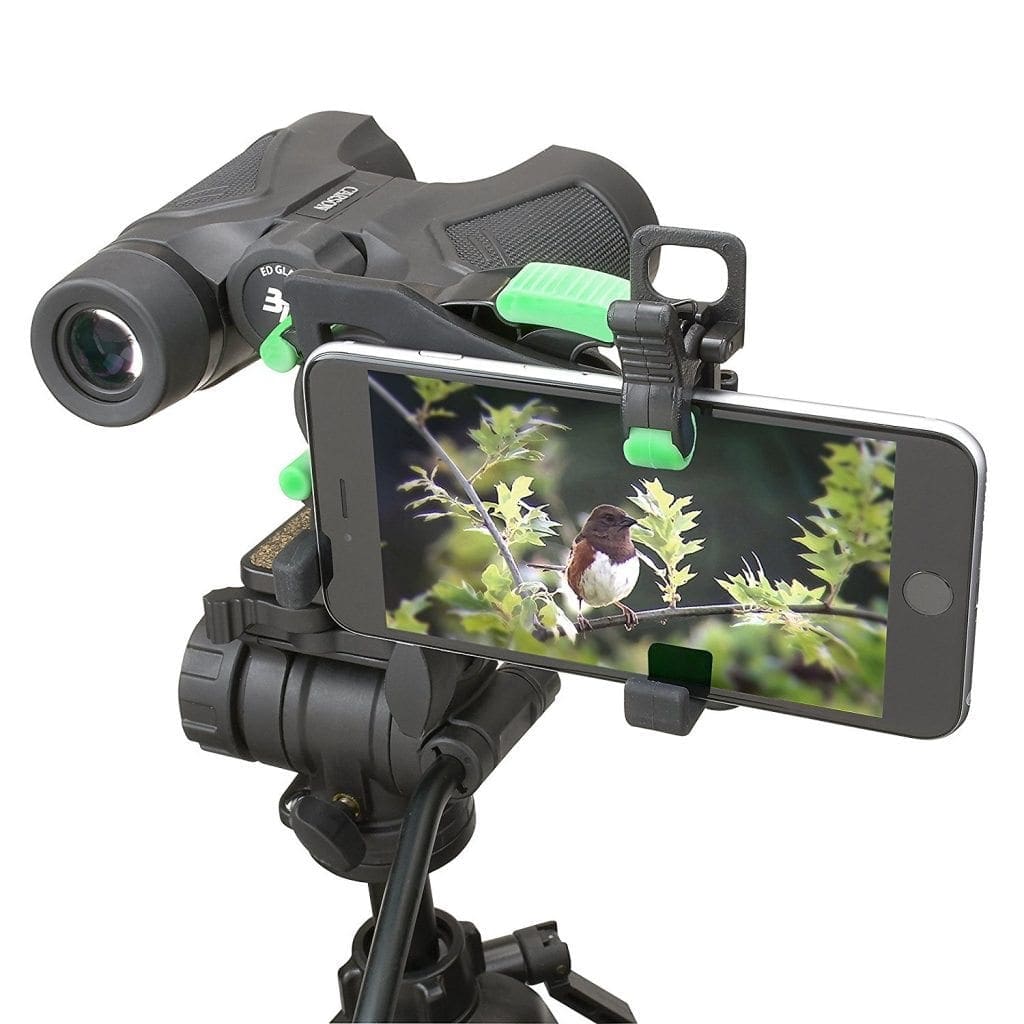 It uses your smartphone's camera app, which is something you're probably already familiar with.
You can use it with various types of scopes such as microscopes, telescopes and spotting scopes. That should make things easy for you; you won't have to position your phone next to your scope (like binoculars) in order to take that perfect photo. It will be as simple as using your binoculars to scan the environment and letting HookUpz capture whatever you spot.
One thing to keep in mind is that this gadget is not compatible with all devices; particularly riflescopes and phablets. If you have the Samsung Note series (I, II, III and IV), Nokia Lumia 920 and 1520, or iPhone 6 Plus, chances are it won't be compatible. You'll want to check the fine print or contact the manufacturer to find out for sure.
Other than the slight issue of compatibility, there's no real negatives about this gadget. It has accurate alignment levers, self-centering functions, lens spacers, and quick release clamps and grips – all in one package that comes in an amazing storage case. The device is very durable, too.
Why do you need it?
You need, wand want, memories of your camping trip. Good moments are easier remembered with amazing pictures, and the HookUpz adapter will help you capture them. Instead of working hard to align your smartphone with your binoculars (which most of the time ends in futility and a fuzzy picture), simply mount this adapter and focus on scanning the area, and it will capture whatever you see with ultimate accuracy.
Vacation photos just got a lot more interesting. Your friends and family will thank you. Or use it to win major bragging points by bringing home the most epic nature or landscape photos. If a picture is worth a thousand words, your incredible shot will surely leave people speechless.