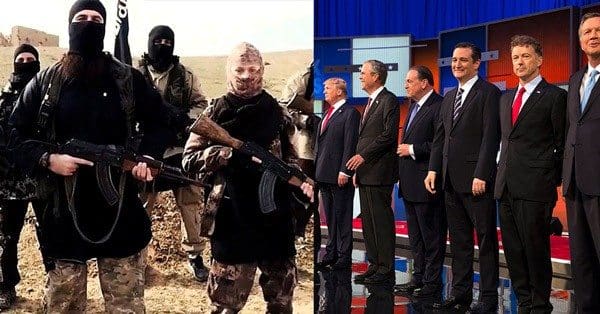 ISIS is all over the news and on everyone's mind. The groups claiming attacks all over the world and many in the US don't think we're handling the situation correctly.
Everyone's got a different take on what should be done about one of the most significant terror threats to the world since Al-Qaeda.
We've got an election coming up and it's important to know what each of the contenders to the most powerful post in politics would do to protect the lives of it's citizens in such a dangerous time.
NPR (I know.. but bear with me…) put together a chart that shows what every single 2016 US Presidential Candidate thinks about ISIS, on all of the major issues – from calling it out as "radical Islam" to declaring war.
Our country's in a fragile state right now, and we need to make a change. Educate yourself on what each candidate will do to help keep America safe and make a difference with your vote.
Unfortunately, it's not all that clear what everyone thinks. Here's a quick quote from the article:
Perhaps most striking here: it's messy, with a lot of "unclears" and "maybes" and "it's complicateds." Candidates have over the last week dribbled out information on how they want to take on the ISIS threat, but many have not released comprehensive plans or statements. We have reached out to campaigns where candidates' views are unclear and will update the table as we receive more information.
Either way, it's a good start to know who's thinking what.
Here's a screen-grab of the actual chart.